Nationwide, a sharp increase in office vacancies triggered by the rise in remote and hybrid work policies brought on by the COVID-19 pandemic, coupled with a national housing crisis, has led to increased interest from landlords in repurposing office buildings for residential use. This article kicks off a new series in which Milrose's Code and Zoning Analysts dive into what it takes to convert a commercial office into a residential building in each of the top US Metro areas – starting with America's largest office real estate market, New York City.
According to Kastle Systems—a building security technology company which tracks card swipes entering office buildings—office employees come to the office less than 50 percent as frequently as pre-pandemic1. At the same time, median residential rents for apartments in Manhattan have jumped to record highs for the last three months in a row and have increased almost 10 percent over the past year2.
Office-to-residential conversions are much easier said than done for developers and building owners. It's not a new concept—after 9/11, several office buildings in Lower Manhattan were converted to residences—but most were "pre-war" office buildings, which are often geometrically more well-suited for conversion. Pre-war buildings are generally slender buildings with natural light and interior spaces which are generally not more than 30 feet from an operable window. Newer buildings often have large floor plates with areas far from natural light/air, which became unnecessary in offices which were equipped with mechanical ventilation. Instead of punched windows, many newer office buildings were designed with curtain walls with windows that are unopenable.
Apartments are subject to several zoning and building code requirements which make conversions challenging. Habitable rooms—which include living rooms, kitchens, and bedrooms—cannot extend more than 30 feet from a window. Apartments are required to have operable windows that open onto a street, yard, or court with minimum dimensional and area requirements. Windows located on an interior lot line cannot be used for light and air without a light and air easement with the adjacent lot, so most buildings located mid-block on interior lots can only have apartments with windows facing the front or rear of the building.
Zoning Regulations for Office-To-Residential Conversions
The NYC Zoning Resolution has special regulations for the conversion of existing non-residential floor area that are more flexible than the general standards for new developments4. These more flexible regulations allow eligible buildings to be converted in their entirety to residential use. It also allows conversions to comply with the less stringent requirements for light, air, and yards of Section 277 of the New York State Multiple Dwelling Law ("MDL")—which allows for legal light and air windows with is as little as 15 feet between the window and an adjacent building wall—whereas the NYC Zoning Resolution requires a minimum distance of at least 30 feet.
However, within Manhattan, these more flexible regulations are generally limited to buildings south of 59th Street in zoning districts, and only where residential use is permitted. Additionally, only buildings that were completed before December 1961 are eligible, with exceptions for buildings in the Financial District (before January 1977) or in Special Mixed Use Districts (January 1997). The majority of buildings in Manhattan must meet the new, more restrictive residential building zoning standards.
Additionally, provisions of the MDL limit residential floor area ratio ("FAR") to 12 for any buildings that were built after the enactment of the 1968 NYC Building Code. Even though the NYC Zoning Resolution allows eligible buildings to be converted in their entirety using these special regulations, the MDL FAR cap makes this conversion infeasible for most office buildings built since the 1970s.
Furthermore, conversions complying with Article I, Chapter 5 of the Zoning Resolution are required to provide rooftop open space which do not consider the existing limitations on rooftop conditions (such as mechanical equipment).
What Kinds of Buildings Make for Good Residential Conversions?
In terms of architectural features and geometry, buildings that have been good candidates to convert from offices to apartments have been pre-war buildings with narrow footprints, operable windows, and high ceilings. These buildings were designed before the proliferation of mechanical ventilation systems and high-efficacy artificial lighting, so naturally they were designed with natural light and air in mind. These buildings were often designed with multiple wings of office corridors with inner or outer courts to allow office spaces to be flooded with natural light and ventilation5.
Office buildings constructed during the 1970s or later tend to have larger floor plates with a core-to-window depth of more than 30 feet. These types of buildings were well-suited for modern offices— large open floor plan areas for workstations and conference rooms—but they present challenges for apartment layouts since the NYC Building Code requires any part of a "habitable room" to be not more than 30 feet from a window opening onto a street, yard, or court.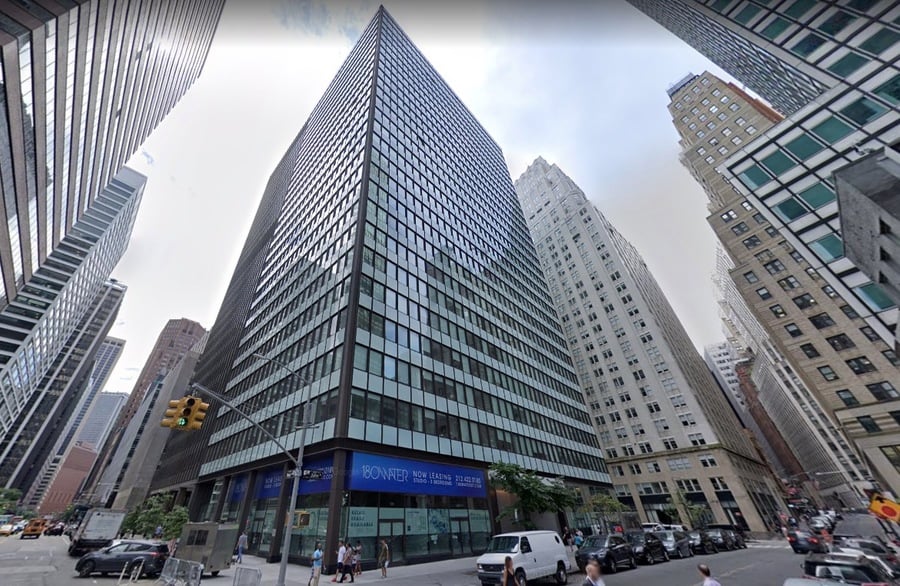 Above: 180 Water Street in Lower Manhattan was originally constructed as an office tower before it was converted to a luxury apartment building in 2017.
However, some newer office-to-residential conversions have bucked the trend. One such example is 180 Water Street in Lower Manhattan, a 23-story office building built in 1971 which was converted to residential apartments in 2017. Before it was converted, the office floors were designed as open floor plans with "rows of cubicles … lit by walls of glass on three sides … [with] the mechanical core on the windowless fourth side, creating depths up to 72 feet from the windows to the core".5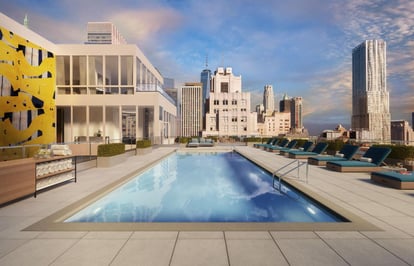 The architect for 180 Water Street came up with an elegant solution – he carved a 1,200 square foot courtyard out of the center of the building. This allowed the building to be designed with apartments both along the outer-facing walls and facing the inner courtyard, with a corridor connecting the apartments on both sides to the building's existing stairs and elevators5. It also took the floor area of the courtyard cut out of the building and reallocated an equal amount of floor area for four new floors and amenity spaces on top of the building (which was allowed by the Zoning Resolution since it didn't add any FAR to the building).
Looking towards the future
The type of conversion at 180 Water Street is an outlier – this type of conversion is not permitted in many districts and is often prohibitively expensive. Changes to the Zoning Resolution and MDL—such as removing the FAR cap and making newer buildings eligible for conversion—are needed to make the conversion of existing buildings feasible and practical. Without financial incentives—such as tax abatements and subsidy programs—it may not be financially feasible for most residential conversions.
Subscribe to the Milrose Insights monthly eNewsletter to stay tuned next month and join us as we travel down South to Texas to explore the rise in office-to-residential conversions in the booming Dallas-Fort Worth area.