When existing buildings undergo alterations, sprinkler modifications are almost always included in the renovations. Often, it is necessary to temporarily impair the sprinkler system for the floor or a series of floors included in the alteration to modify the layout to achieve proper coverage.
The New York City Fire Code and the Standard for the Installation of Sprinkler Systems (NFPA 13) requires measures to be taken to address the temporary impairment of the fire protection system before shutting off the system. Fortunately, the DOB has provided updated guidance to help navigate the compliance path between agencies to achieve life and property safety. Read on to learn about the key information contained in DOB Buildings Bulletin 2020-12 about the requirements for temporary sprinkler coverage requirements during renovations.
Even if the building or space is vacant, a temporary water supply connection to the existing sprinkler system is required. The purpose is to protect egress routes and elevator shafts to protect the building and its occupants—such as construction workers—in case of a fire. This is known as Temporary Core Sprinkler Protection (TCSP), commonly referred to a 'temp loop'.
In 2017, the DOB issued Buildings Bulletin 2017-009 that clarified the code requirements and filing procedures for TCSP systems. This bulletin superseded a previous bulletin in effect since 2012, which required temp loop systems to protect elevator lobbies and openings, entrances and exits, and egress paths in accordance with prior codes and local laws (Local Law 5/1973 and Local Law 26/ 2004). This bulletin has been superseded by Buildings Bulletin 2020-012, which is materially the same is 2017-009 except for a change to FDNY Letter of No Objection process. The 2017 bulletin clarified a few key changes that incorporate the provisions of the 2014 construction codes:
— Temp loop systems are required to be connected to a fire alarm system. Sprinkler heads function as heat detectors that initiate fire alarm devices. TCSP systems must have all of the functions of the building's (permanent) automatic sprinkler system, such as sprinkler alarm, and system supervising/monitoring systems to ensure that it is operational.
— This bulletin requires the following for compartmentation:
♦ The compartmented area must have a 1-hour fire-resistance rating, and must be less than 52,000 ft, as required by NFPA 13 standards that govern the maximum floor area on a floor that can be protected by one sprinkler system riser to be considered a "light hazard".
♦ Heat detectors must be connected to the fire alarm system on the construction side of the entrance doors (see Figure 1 below).
♦ Sprinkler heads may not be placed inside a stair, even if the work is near a stairwell, and;
♦ All required exits on the floor (including exits from the area undergoing construction work) must be maintained for the duration of the work.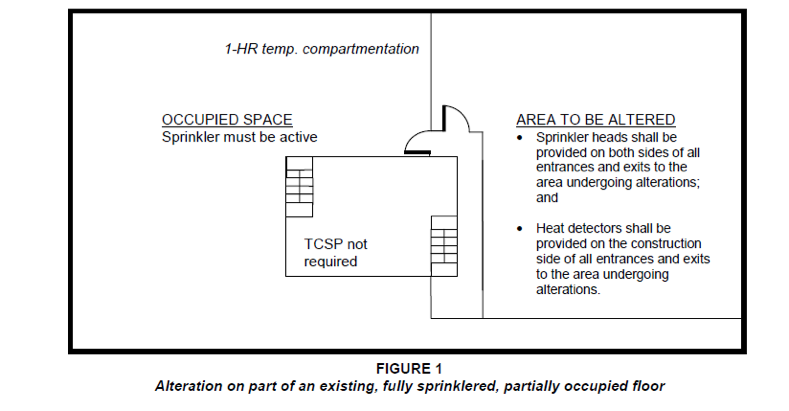 Additionally, this bulletin modifies the plan requirements and the administrative procedures for filing for DOB and FDNY approval.
This bulletin requires a phone call be placed to a dedicated FDNY number to discuss the proposed fire protection measures with a Fire Department official. This person should be knowledgeable of the Fire Code provisions for "out-of-service systems". In addition to notifying the municipal agencies, the building owner is required to notify all building occupants and other affected parties as required by the 2014 NYC Fire Code.
Additionally, there are restrictions on torch operations (such as welding) in areas affected by the sprinkler disconnection, and must be closely monitored by certified fire guards.
This bulletin also mandates the inclusion of specific Fire Code compliance notes for out-of-service systems on the plans filed for DOB and/or FDNY approval (though these requirements were common practice with plan examiners since the enactment of the 2014 NYC Construction Code and prior to the issuance of the 2017 bulletin).
For temporary sprinkler system disconnections that impair more than 5 contiguous floors in a building, a "Letter of No Objection" is required from the Fire Department. The procedures and plan requirements have been similarly clarified and updated. It also clarifies that at the Fire Alarm modifications required for TCSP installations must be filed with the FDNY for plan examination approval.
Lastly, this Buildings Bulletin contains similar administrative procedures for work that involves alterations to a building's standpipe system. Firefighters depend on standpipe systems to supply a quick, convenient water source, specifically in high-rise buildings, both for operations and for their own safety; if the system is disconnected for even a short period of time, the consequences can be potentially severe.
The measures for notification procedures to the FDNY (to make them aware of a disconnection of standpipe systems) are similar to the requirements for temporary sprinkler system disconnections. Notifications to building occupants, restrictions on hot work and torch operations, and requirements for fire watch personnel are codified by the NYC Department of Buildings.
More significant standpipe disconnections that render the system out-of-service for more than 24 hours require an application submission for FDNY plan examination, and a written narrative of the scope of work and duration of the disconnection, before an FDNY "Letter of No Objection" can be obtained to allow DOB work permit to be issued. Buildings Bulletin 2020-012 directs readers to the FDNY website to find the latest procedure for submission to FDNY for Letters of No Objection.
2014 NYC Fire Code, §901.7 (Out-of-Service Systems)
NFPA 13 -2007, §A26.1 (Impairments)
For buildings that do not have a fire alarm system, they must be connected to a local annunciation and notification system in the building.
2014 NYC BC §903.4.1 (Signals and Monitoring), § 903.4.2 (Alarms)
NFPA 13-2007, §8.2.1 (System Protection Area Limitations)

For questions or assistance with making sure you are in compliance with New York City Fire Code, contact Milrose Consultants.