The COVID-19 pandemic has uprooted many aspects of normal life — but ever-resilient New Yorkers are adapting. While subway ridership has been significantly reduced, active Citi Bike memberships are at an all-time high.
Scores of people are biking to and from work or cycling a few miles in order to get out of their homes and still be safe. To encourage and facilitate outdoor bike riding, the NYC DOT's Open Streets program has taken steps to make cycling in the city safer by committing to closing off 100 miles of roads to cars.
This effort includes the creation of many miles of temporary protected bike lanes. Recently, the program was expanded to double the mileage of such lanes.
What is Open Streets?
The DOT's Open Streets is an initiative to allow New Yorkers to get outside during the lockdown and still maintain social distancing. The program works by blocking roadways to most automobile traffic, typically from 8 a.m. to 8 p.m., allowing pedestrians and cyclists to better distance themselves without having to worry about cars.
The roadways affected by these closures are even marked as such in Google Maps and are found across neighborhoods in every borough.
What is being done to make NYC a more bike-friendly city?
The goal is to open 100 miles of roadway, and the city is two-thirds of the way there after a late-June 2020 expansion.
Now, the Open Streets programs applies to 67 miles citywide, including more than 18 miles in protected bike lanes — which was doubled with the addition of 9 miles in the most recent announcement.
"As we continue our efforts to stop the spread of COVID-19, we are also working to help New Yorkers travel more safely by bringing new temporary bike lanes and open streets to more neighborhoods, including the South Bronx, Upper Manhattan, Bushwick and Kensington," said DOT Commissioner Polly Trottenberg
Bike corridors are being phased in throughout the summer using markings, barrels, signage and other barriers. Ultimately, the objective is to create "critical connectors" from established, existing protected lanes.
The full details of where bike lanes were created and how long they stretch can be found on the Open Streets main site, or on NYC Open Data.
A bike-only bridge in the future?
The trend toward cycling infrastructure has been driven by several factors. These include not only pandemic-fueled adaptations, but also concerns about climate pollution from fossil fuels.
If reports are true, NYC could further deepen its commitment to bike safety and access by opening a new bridge — one not meant for cars. According to The New York Times, a $100 million proposal called the Queens Ribbon would stretch from Long Island City to Midtown, with a link to Roosevelt Island, serving pedestrians and cyclists. The project is meant to meet the surge in biking, but still needs to clear many basic, important planning and approval hurdles.
Additionally, according to Gothamist, the Queens Ribbon may be one of potentially three new pedestrian/cyclist bridges. The group behind the proposal, led by former city traffic commissioner Samuel Schwartz, also has ideas for a bridge between Brooklyn Bridge Park and the Financial District Island, with a stopover in Governor's Island, as well as one between either Hoboken or Jersey City and Midtown.
Mobility and transportation reform was also the focus of three new bills recently approved by the City Council, a trio of measures passed in late June that:
Legalized e-bikes that were deemed illegal under previous state law
Legalized the use of electric scooters
Paved the way for establishment of an e-scooter share program
Citi Bike's massive expansion plan
In response to the pandemic, Citi Bike launched the Critical Workforce Membership Program, a free one-year bike membership for NYC hospital staff and essential workers, and continued to push forward with its expansion plan to bring Citi Bike into Upper Manhattan and the Bronx.
Thanks to a $100 million investment from Lyft, Citi Bike plans to double its footprint by 35 square miles and bring the total number of bikes available to 40,000 over the next five years. Citi Bike recently reached the 100 million bike rides milestone and will open its 1,000th station in August at East 160th Street and Tinton Avenue in the Bronx.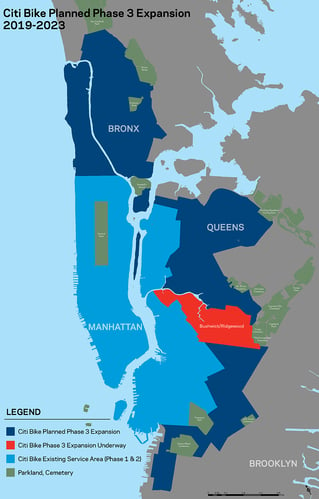 Above: A map of Citi Bike's Planned Phase 3 Expansion
As bike riding rises, companies will shift into gear
As more New Yorkers and city officials embrace urban planning that prioritizes cycling, employers and building owners will look to get on-trend. That may mean encouraging employees to bike to work by building a bike storage room or considering the proximity of their office to the nearest bike-share station.
Whether you need assistance navigating the Citi Bike dock installation process or temporarily removing Citi Bike racks during an upcoming construction project, Milrose's DOT Department has the experience and rapport with the DOT bike share division to lead you to success.
Reach out to Milrose today to learn how our DOT permitting services can ensure your project is a smooth ride.