As part of Milrose's Employee Spotlight series, we'd like to introduce you to Milrose's Senior Regional Sales Manager, Jaclyn DiRenzo. Jaclyn started with Milrose in 2001 in the role of Executive Assistant and has advanced her career alongside the growing company.
You started with Milrose in December 2001 and have served in several prominent positions for the firm over the course of your tenure. Can you walk me through the roles you've held and your biggest accomplishments in each position?
I started with Milrose in December of 2001 as an Executive Assistant to Lou Milo and Gus Mazza. At the time I had no intention of staying long, I thought I would use the experience as a stepping stone to get into real estate in New York City. Little did I know the small company would be the start of an amazing career.
The company saw potential in me and asked me to stay on long-term. They provided me with integral training, support and helped guide me as I transitioned into Account Management and Sales. I had quickly gained a different perspective, along with valuable institutional knowledge about what Milrose does.
I continued to learn and ask as many questions as I could every day. Soon I was managing the Account Executive Department where I hired a team of Account Executives that were responsible for managing the top accounts for the firm. I was also playing a managerial role in some of the largest projects and accounts, at the time, for the firm. Additionally, I was involved in sales efforts, and I oversaw all marketing efforts; which included launching our newsletter in 2007 which we still utilize today.
After 11 years with the firm, I took a leave of absence spanning four years to stay home with my children while my husband returned to Vet school. I was lucky to return to Milrose in January 2017 and be able to jump back into my career but in a slightly different role.
What is your current role at Milrose and what are you looking to achieve in it?
My current role is Senior Regional Sales Manager. In this role, I hope to help expand our brand into new markets. We opened our sixth regional office in Washington, D.C. in 2017 and I have been working closely with Al Cava, our Regional Director of Sales, on this endeavor. We plan to create the same name for ourselves in the DC Metro area, and beyond, that we have in the Northeast. We hope to make expediting and Milrose synonymous, as it is in other regions that we serve.
We will do this by providing the same level of service, support, and knowledge that we are known for, building our brand in this market, developing relationships, and showing the value of our expertise. In addition, I hope to continue to help strategize our sales goals and grow accounts through my existing relationships and new contacts for the firm as a whole.
What has been your experience as a woman working in a male-dominated industry?
Being a woman in this industry for the last 16 years has not been without its challenges. However, I will follow that up by saying, if you have the drive, work ethic, knowledge, and integrity then you can go very far. You cannot allow yourself to be held back because of someone's perspective of you, especially if it is gender-based bias.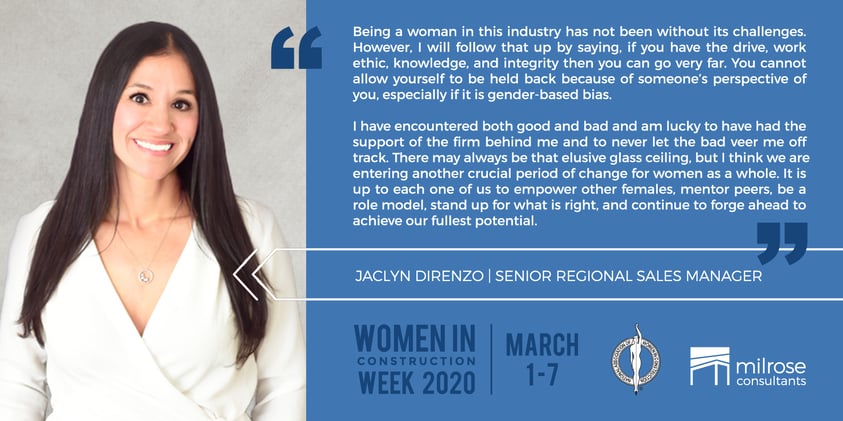 I have encountered both good and bad and am lucky to have had the support of the firm behind me and to never let the bad veer me off track. There may always be that elusive glass ceiling, but I think we are entering another crucial period of change for women as a whole. It is up to each one of us to empower other females, mentor peers, be a role model, stand up for what is right, and continue to forge ahead to achieve our fullest potential.
How have you seen the roles of women evolve in this industry?
I have definitely seen an increase in females in key roles over the past 16 years. Don't get me wrong, I think we still have a long way to go, but I do see that progress has been made. I feel lucky that I have worked for a firm that empowered me to go out and do my best. The construction and real estate industry is still heavily male-dominated, however through organizations like AREW, CREW, PWC, NEW, and many others, women have been able to find a community and support system to come together and promote much needed advancement.
What is your favorite part about working for Milrose?
The short answer would be that they allow me to do what I love every day. We are often considered a niche in the construction industry; we have an interesting and vital role in the building process. In a nutshell, while we don't actually construct the buildings we do help build buildings, thereby changing the skylines of many cities in the northeast and throughout the mid-Atlantic.
What we do is fascinating, not to mention who we get to work with. Our clients are wonderful, so many experienced, knowledgeable, and truly talented personalities that we interact with day in and day out. I am thrilled to be a part of so many amazing projects and to watch so many structures and projects come to life.
What has been your proudest accomplishment?
My three children—I realize that's not work related, but they would be my proudest accomplishment.
You have held key positions in organizations including IFMA, CoreNet, AREW, and have been involved in several committees including CHCF, Special Olympics, and Covenant House. What have you gained from your experience working with these organizations?
I have gained valuable friendships, knowledge about working together on committees and boards to achieve set goals and deliverables, ways to improve efforts for raising money and for putting together large events. Anyone that has served on a committee or a board can tell you it's complicated, timely, and really takes a committed group effort to make the vision a reality. You invest a lot of work and time but it's so rewarding when you see the outcome of the efforts. Most importantly, though, I've been able to help give back-- which is something we should all try to focus on throughout our careers.
You are passionate about volunteering and are currently serving on Milrose's Year of Philanthropy Committee. Why is being philanthropic important to you?
Being philanthropic is important because the world is bigger than you or me. There is more to life than this industry and our careers. Philanthropy has been a part of my life since I was young; I was raised to see the economic disparity in the world and I have always strived to make a difference. I've spent a lot of time in countries like Kenya and Peru trying to bring happiness and supplies to children and families in need. We need to acknowledge that there is more to life than what we do-- that people and animals suffer every single day.
Philanthropy is about making a conscious altruistic effort to invest in humanity, in a better world. I am a true believer of leading by example, we must make an effort to make this world a better place than we found it, humanity depends on it.
Besides volunteering, what else do you like to do in your spare time?
With three kids ranging in age from 3 to 8 and working full time, I can't say that I have a lot of spare time these days. When I do have time, I enjoy traveling with my family, running, playing a terrible round of golf, and if I can find the time, reading a good book.
Anything else that you would like to share?
Being a working mother, I have seen both sides of this equation. I was a full-time working mom with two children in daycare at a young age, working crazy hours, and spending little time with them. Then I was lucky enough to spend 4 solid years at home with my children followed by returning to the workforce.
Now I'm a working mom again, however, I have learned to balance. I think that is the biggest challenge for working mothers, learning how to find the balance between your commitment to your career and your commitment to your family. There is no one-size-fits-all answer, each of us has to make the decisions and changes that work for our own families.
I feel lucky that I have finally found a balance that works for mine and I'm looking forward to what the next chapter of my career brings.