Constructing a new building in NYC or just renovating one? You'll need a permit either way
While it is common knowledge that major construction and renovation projects require you to obtain permits from the Department of Buildings (DOB), what may be less clear is the exact type of permits that will be needed for your particular project.
There are several different types of NYC permit applications for new construction and renovations. Each has a different timeline that impacts project planning, making it crucial to work with a skilled expeditor who will determine a filing strategy to keep the project on time and on budget.
Let's examine the primary DOB permit applications (also called job types):
New Building (NB)
Any project with plans for constructing an entirely new structure must file for the New Building (NB) permit application.
Determining if you need an NB permit is a relatively straightforward process. However, be aware that it is not the only approval that will be needed. Other applications may be required for specific work types including demolition, sprinkler, standpipe and fire alarm, among others.
If any existing building elements are retained in place, the application must be filed as Alteration Type 1 Application.
Alteration Type 1 (Alt1)
An Alteration Type 1 (Alt1) permit is required for any major construction that affects the use, egress or occupancy of the space, and results in the issuance of a new or amended Certificate of Occupancy (CO).
Examples:
Converting a commercial building or space to residential
Vertical enlargements (adding floors)
Change that alters the number of occupants in a space
Densification of existing office floors

Establishing a Place of Assembly

Changing the use of the space
Alteration Type 2 (Alt2)
An Alteration Type 2 (Alt2) application is filed for standard interior demolition and/or renovation work that doesn't affect the use, egress or occupancy of the space, and therefore doesn't require a new or amended CO.
An Alt2 may either be filed as a Directive 2 (D2) or Directive 14 (D14) application. Both implemented in 1975, these directives were used to streamline the filing process:
Directive 2: D2 applications allow applicants to file projects in lieu of an Alteration Type One application when the change involved is limited to a change in egress (only), with no impact on the Certificate of Occupancy. The DOB often refers to a Directive 2 review as a full egress review. A D2 application requires a DOB inspection prior to sign off.
Directive 14: Introduced to address a backlog of inspections DOB experienced at the time, D14 enables applicants of record to file for a limited examination. This means a registered architect or professional engineer can take responsibility for final inspection and sign-off.
The key difference to remember between D2 and D14 filings is that under D2, the applicant is not authorized to conduct the final inspection. Instead, the DOB inspection division performs the final construction inspection, confirming the work was completed in accordance with the approved D2 plans.
Alteration Type 3 (Alt3)
Alteration Type 3 (Alt3) permits are filed for alterations that involve only one type of minor work that does not affect use, egress or occupancy of the space.
Examples:
Temporary fences
Curb cuts
Scaffolding
Tents
Place of Assembly (PA)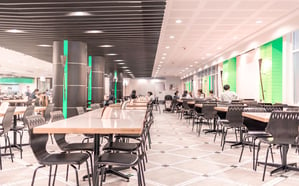 An office cafeteria is an example of a PA space.
When determining your permit filing strategy, it's important to consider if your project will require you to obtain a Place of Assembly (PA) Certificate of Operation. The DOB requires these for all indoor spaces where 75 or more persons congregate indoors for entertainment, worship, exercise or recreation, education or civic engagement. Common examples of PA spaces include cafeterias, gyms, theaters and classrooms.
The Path to Permit Approval
Now that you are familiar with the basic permit application types, let's take a high-level look at the NYC DOB permit filing process.
Professional Certification vs. Standard Filing
When considering the sequence and schedule of your permit approvals, it's important to understand the difference between the professional-certification (aka self-certification) and the standard filing route.
The self-cert process (as it's commonly known) involves having a licensed architect or engineer take full responsibility for the code review and compliance of their own work rather than having a New York City DOB plan examiner review their drawings for conformity and accuracy.
In comparison, the standard process involves filing plans, waiting for a DOB review, receiving subsequent comments or objections, then resolving those objections to obtain final approval, all of which can take weeks. Given the standard process is more time intensive, self-certification is usually recommended to achieve shorter approval timeframes and reduce delays.
What is the Process for New Building/Major Alt1 Approvals?
The application process for both NB and Alt1 permits is much more intensive than Alt2 approvals, given the scope of the projects that require such permits. In addition to the standard filing requirements, you will also be required to submit: a full zoning analysis, egress paths and travel distances, occupancy calculations and zoning compliance.
Let's break down the typical workflow for New Buildings and Major Alt1 approvals:
Apply for tentative tax lot number
Apply for house number
Prepare NB paperwork for zoning and egress review including:

Architectural and Zoning drawings
Structural and Foundation drawings
Support of Excavation drawings
Mechanical and Plumbing

Pay DOB filing fees
Allow four to six weeks for the initial review by DOB staff
Meet with examiner to review any zoning objections
Prepare all associated applications for filings


Upon resolution of all objections and submission of all supplementary documents and associated agency approvals, the DOB will provide Partial (Foundation only) or Full Approval of your New Building application. At which time, you may proceed with securing your DOB permits to start construction activities in the field.

Reach out to Milrose for filing expertise

Navigating the requirements and timelines of construction work permits in NYC can be a challenge.

As the experts in permit expediting, Milrose knows all the steps and processes through and through. Our experts have the experience to determine and execute a filing strategy that overcomes obstacles and ensures permit approvals are streamlined in order to meet the project's target dates.

Have a question about NYC permit filing applications and/or timelines? Get in touch with us today to utilize our municipal permit filing and approvals services.