Last year, Milrose announced a series of strategic alliances forged to strengthen and grow our business, as well as our partners. Despite the challenges of 2020, we're thrilled at the prospects of what's to come.
One of those new relationships was formed with Integrated Group, a leading firm that provides special inspections and construction consulting services.
We sat down with Randy Bennett, the founder and president of Integrated Group, to learn a little more about the business and its partnership with Milrose, and how both companies and their clients stand to benefit.
The beginning of the Integrated Group
The Integrated Group is an independent third-party construction consultant and advisor for property owners, developers, contractors, architects, and engineers throughout the Northeast, with locations in NYC and Pittsburgh.
The firm's focus on special inspections was in part borne of Bennett's education and work experience.
"I learned a lot about building codes, environmental services inspections and how to perform and manage over the years in the industry," Bennett said. "My background is in mechanical engineering and my first job out of college was with an environmental department of a national engineering firm, working with asbestos, environmental management and construction inspections."
Instead of hiring three to four different companies, clients would be able to do it all through us, their one-stop shop.
After starting up and selling an environmental consulting business, Randy founded Integrated Group in 1994 with the intent to provide comprehensive services for clients. Today, the business boasts a multidisciplinary services portfolio that spans special inspections, fire code consulting, environmental evaluations, workplace safety plans, and construction permitting.

"Clients were happy that we could do building permits, asbestos and inspections all in one offering," Bennett said. "We ended up becoming a specialist for securing consolidated, multiagency approvals. Instead of hiring three to four different companies, clients would be able to do it all through us, their one-stop shop."
What services does Integrated Group provide?
The core of Integrated Group's services is built on five pillars:
1. Code Consulting and Permitting
These services cover municipal filings and approvals with the Department of Buildings, Department of Transportation, Landmark Preservation Commission, Department of Environmental Protection, and other agencies.
2. Special and Progress Inspection Services for Construction Projects
This is the bread and butter of Integrated Group's service portfolio.
"From the very beginning of the job, we initiate lots of interface with the project manager and primary contractor, handling coordination with contractors and owners," Bennett said. "Follow-up with the contractor is key, as well as proper submission of documents to DOB. We fulfill a lot of those processes internally."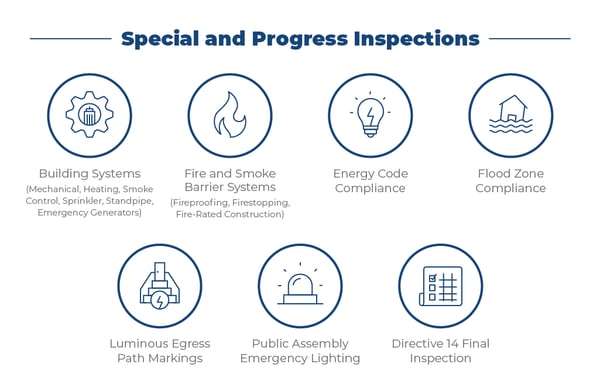 Integrated is prepared to handle all types of special and progress inspections, including those for:
Building systems – mechanical, heating, smoke control, sprinkler, standpipe, emergency generators.
Fire and smoke barrier systems – fireproofing, firestopping, fire-rated construction.
Energy code compliance – thermal insulation, air leakage, lighting wattage.
Flood zone compliance – performed in existing buildings that do not require Flood Elevation certificate prepared by site/civil engineer.
Luminous egress path markings – verification that "glow striping" on floors, walls, and doors meets minimum standard for exit stairs and corridors.
Public assembly emergency lighting – required to verify that the exit pathways maintain the required minimum lighting levels.
Progress inspections – final inspection requires that the applicant review all work on the project to verify the plans and construction.
3. Asbestos and Environmental Consulting Services
Known as an expert in special inspections, Integrated Group is also well-regarded for asbestos and environmental consulting services, the area in which Bennett got his start.
The firm became an industry leader in Asbestos Technical Review Unit (ATRU) workplace safety plans after working with DEP representatives following the 2007 fire at the former Deutsche Bank building in lower Manhattan. ATRU requirements became law in 2009 and Integrated has prepared hundreds of workplace safety plans annually since then.
Additional environmental services include:
Asbestos variances (Procedural and 1-22B/V5) – Procedural variances are required when certain asbestos regulations cannot be complied with. 1-22b/V5 is for complex construction and abatement projects that require DOB permits but must be phased where both asbestos and normal construction activities can be performed.
DEP air resource permits – Buildings with emergency generators must be registered with the DEP and an Air Resource Permit is required on an annual basis.
Interior renovation and full/partial demolition projects – Each full building demolition permit requires registration with the DEP prior to start of work. This identifies the methods to control dust during the project.
DEP noise mitigation permits – Required to verify noise code is compliant; noise mitigation permits are needed prior to requesting DOB After Hours permits.
New York State Department of Environmental Conservation fuel storage tank registration – All fuel storage tanks over 275 gallons are required to be registered with NYS DEC.
4. Fire Code Services
Integrated Group also earns distinction for its breadth and depth of fire code services.
"We pretty much do everything related to fire alarm services, inspections, compliance work, and performing fire safety plans that FDNY would use in the event of fire," Bennett said.
Integrated can provide several valuable add-ons to Milrose's existing fire code services, including:
Fire alarm and "ARCS" design, consulting, and permitting – Field Survey and design of modified or new Fire Alarm Systems as well as permitting for fire alarm applications.
Inspection, commissioning, and certification services for fire alarm projects – independent review of fire alarm system functionality to verify operation. This may occur during pre-test prior to FDNY test or performed to prepare Affidavit for Occupancy to resolve DOB requirements.
Fire department compliance services (fire safety and emergency action plan development and periodic update services) – these plans are required for high-rise residential and office buildings to show FDNY the layout of all building services, egress routes, and fire alarm system components.
Fire protection plan preparation and filing (joint agency: FDNY and DOB) – required for all new buildings and many Alt 1 Certificate of Occupancy changes.
FDNY variances from Technology Management and Construction Demolition and Abatement Unit (CDA) – encompasses hoist waivers, sprinkler/standpipe waivers, and fire alarm phasing variances.
Violation removal – working with the building owner to resolve violations (commonly violations for failure to provide Certificate of Compliance for HVAC units.)
5. Architect and Engineer Support Services
Integrated Group also provides customized support for architects and engineers based on the specific project needs of the client. Their on-call A&E services include coordinating Site Logistics Plans, Site Safety Plans, Tenant Safety Plans, Existing Condition Surveys, Interior Demolition Design, Temporary Service Design and Temporary Place of Assembly permits.
Integrated and Milrose positioned for fruitful partnership
Randy and Integrated Group are excited to see what the business and Milrose can achieve together.
"We each can help the other with internal coordination related to required filings and documents," Bennett said. "The partnership will also provide clients with unified services that cover everything from initial construction to help with ongoing annual compliance mandates going forward".

Already, the two companies have collaborated on major projects such as Madison Square Garden, Macy's Herald Square and the upcoming major renovation to David Geffen Hall at Lincoln Center.
Milrose looks forward to what is possible with Integrated Group and the improved value and convenience we can offer clients together.
Contact us today to learn how you can save time and money by utilizing our combined packaged services.