A lot of attention is given to building regulations, codes, wiring, and all kinds of safety demands but there are different requirements for the inside and outside of buildings. Parking structures, such as underground spaces, are also an important safety concern.
Part I: The outside of buildings—façades
More often than not, the inside of how a building is designed, where appearance is often the focus, take precedence over the exterior. If you own or operate a building that is above six stories, it is mandatory to be in compliance with New York's Façade Inspection & Safety Program (FISP)
Façade legislation
As stated above, buildings that are above six stories must be maintained per the façade legislation of their cities. The cities that currently require façade legislation are: Milwaukee, WI; Chicago, IL; Detroit, MI; St. Louis, MO; Cincinnati, Cleveland, and Columbus, OH; Boston, MA; Philadelphia and Pittsburgh, PA; Jersey City, NJ; and, quite obviously, New York, NY.
FISP in New York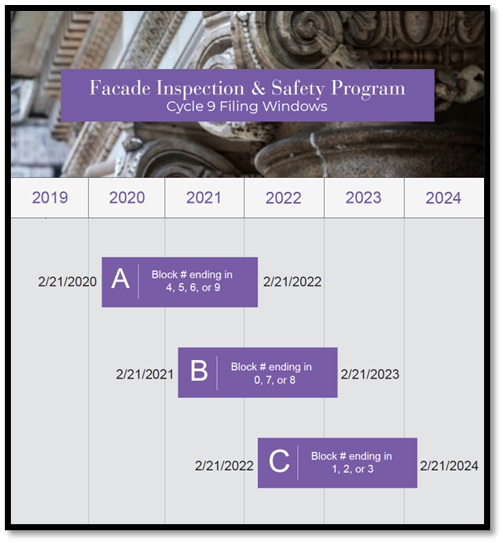 The previous version of the law Local Law 11/98, is now currently FISP regulates that building owners must have all exterior walls and appurtenances (i.e., items attached to the building) inspected on a periodic basis. This inspection is to be conducted by a Qualified Exterior Wall Inspector (QEWI), who will submit a report to the New York City Department of Buildings (DOB) within the required time frame. The time frame for submission is within a two-year period, depending on the ending number of the block of a building's location:
Classifications of FISP inspections
Depending on what the QEWI discovers, the building will receive either a classification of SAFE, UNSAFE, or SWARMP (which stands for Safe With a Repair and Maintenance Program) SWARMP conditions means there are currently no UNSAFE conditions, but some of the conditions may become UNSAFE before the next cycle and the noted conditions must be repaired within the time frame determined by the QEWI.
What is required in FISP?
The physical inspection requirements for New York city buildings have increased from a single scaffold drop to examinations performed at intervals of 60 feet along all exterior walls that face the "public right-of-way This means any wall, which can be directly accessed by any pedestrian.

For buildings with cavity walls, the QEWI will determine the location of the probe, and there must be a minimum of one single probe along each required closeup inspection. Additionally, reports will be written, and photos will be taken concerning the code compliance, spacing, and condition of wall ties.

Among other updates to FISP, the DOB now requests additional information to provide supporting evidence to justify the condition that is reported. These include the sounding of materials, investigations of questionable conditions, statements that any loose material has been removed, and confirmation that appurtenances, guardrails and enclosures are all structurally stable.



New & Increased Penalties
Civil penalties have been increased and violations for failure to correct Facade Inspection & Safety Program (FISP) conditions are being issued regularly. These include:
Increased Penalties for:
Failure to file = $5,000/year (previously $1,000)

Late filing = $1,000/month (previously $250)
Penalties include:
Failure to correct SWARMP condition = $2000 – This isn't new, but it's being more stringently enforced now.
Industrial Rope Access
Industrial Rope Access can assist in providing affordable options for the current required inspections and probes.
In the 1980s, Industrial Rope Access was introduced in New York City for work on buildings...Additional advantages to rope access include it being unobtrusive, requires short setup and cleanup times, provides more control to the inspector, and is cost-effective.
To Summarize, façade maintenance is very important and the FISP regulations help keep the public safe from injuries. If you own a building in New York City, you are still required to maintain the exterior of your building in a safe manner, even if it does not fall under the FISP height requirements.
---
Part II: Parking Structures
Since January 2022, private, municipal, or state-owned parking structures have required a periodic condition assessment. With Local Law 126 in place and the intended increase in routine maintenance, the DOB hopes to better protect the public within these structures.
Inspection of parking structures
The same way buildings require the services of a Qualified Exterior Wall Inspector (QEWI), a Qualified Parking Structure Inspector (QPSI) performs assessments on these parking structures. A condition assessment report for parking structures must be filed every six years.
Cycles of New York State parking structure inspections
The six-year period for parking structure assessments in New York City are broken into three "sub-cycles."

Parking structures where the new laws do not apply
There are certain types of parking structures that are exempt from the LL126 requirements. These include autobody and automotive repair shops, showrooms and service stations. Additionally, garages where there is an occupancy of no more than three cars, unenclosed and unattached outdoor parking lots, and private garages that are part of one- or two-family homes are also exempt.
What is involved during an inspection procedure of parking structures?
There is no "one size fits all" inspection procedure of parking structures. The QPSI will develop a program that is unique to that particular structure, review all available reports, conduct a visual inspection, physical examination and – upon completion – submit a report along with an annual observation checklist. Part of the physical examination is to assess a minimum of 10 percent of each structural element at its most deleterious locations. The QPSI will identify locations for phsicayl examination and some examples may include sounding, cores, probes, non-destructive testing, and an optical survey. Coorindation and clear communication between the Building and garage operator will be necessary.
Areas that are inspected
The inspection of the parking structures include all structural elements such as; beams, columns, slabs, girders, ramps, and bearing walls. Additionally, appurtenances such as roll-down gates, light fixtures, firestopping, wearing surfaces, parapets, and railings are also inspected. A more complete list of appurtenances is provided in the RCNY 103-13. In some structures, the QPSI is also required to assess the facade of the parking structure following the principles of the FISP program. It should be noted that if the building is already subject to FISP, or if the parking structure occupies less than 50 percent of the total square footage of the building, a facade inspection is not required.
Classifications of parking structure inspections
The QPSI will file their report with the DOB with one of the following classifications:
SAFE, UNSAFE, or Safe with Repair and/or Engineering Monitoring (SREM).
If a parking structure is classified as SREM, it will require repair or maintenance over the course of the next one to six years to prevent deterioration to the point where it is deemed unsafe.
Points to know about the SREM classification…
When a parking structure is classified as SREM, the following must take place:
Stability analysis showing structure is stable under anticipated loads

Location mapping of all SREM conditions found within the structure

Another condition assessment report is required to be submitted within three years of the initial report

The repairs must be completed prior to the next cycle

Determine if a monitoring program is required

Whem required, identify engineer performing monitoring
Steps and time frames to pay attention to if a structure is labeled "Unsafe"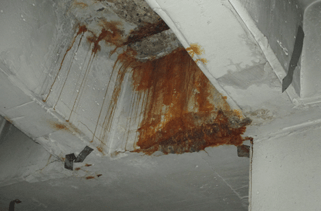 If an unsafe condition is found in the parking structure, immediate action is required. The report must be filed and the conditions must be corrected within 90 days of report submission or within the recommended timeframe indicated by the QPSI for repairs.
When a parking structure is classified as UNSAFE the following must take place:
Maintain Public Safety with emergency measures such as shoring, netting, fencing, vacate, etc

Notify the DOB and call 311

Repairs to the condition must take place right away
Unsafe conditions must be corrected within 90 days of filing a report with an Unsafe status. An amended report must then be filed within two weeks of completing the repairs. If the repairs are not completed and an amended report is not filed within this timeframe, time extension requests are to be filed with the DOB and are subject to review and acceptance.
Timetable for fines and fees
DOB Fees:
Initial Report – $305.00

Amended/Subsequent Report – $85.00

Extension Request – $65.00
The following penalties apply after the filing period ends:
Late Filing (initial report) – $1,000 per month

Failure to File (initial report) – $5,000 per year

Failure to Correct Unsafe Conditions – $1,000 per month

Failure to Correct SREM Conditions – $2,000 (one time)
How to be proactive
The owner of a parking structure should start clear and consistent communication with whoever operates the garage right away. They should gather prior engineering reports, original structural drawings as well as those of earlier repairs, and any paperwork related to reported violations. Above all, the owner should stay on top of inspection and report deadlines to avoid paying considerable fines.
HLZAE is here to help
It goes without saying that there is plenty to keep up with when it comes to maintaining the safety of building facades and parking structures. Owners should always be aware of when inspections are due and be ready to take immediate action if/when repairs are needed. Time, money, and effort are required. Staying proactive will prevent costlier situations, while also providing peace of mind.
Milrose's Strategic Partner, Howard L. Zimmerman Architects & Engineers, D.P.C., is here to help you evaluate your building facades and parking structures so you are prepared to meet compliance with the upcoming FISP and Local Law 126 deadlines. To learn more about HLZAE's extensive expertise or inquire about their inspection support services, please visit www.hlzimmerman.com.