This month, s we take a deeper dive into the impact that Local Law 97 (LL97) could have on thousands of New York City building owners—to the tune of $200 million.Do you own a building in New York City?
Why now is the time to act
The clock is ticking for thousands of New York City landlords who must meet the new energy efficiency requirements that are outlined in LL97—or face steep non-compliance penalties. According to a report commissioned by the Real Estate Board of New York (REBNY), by the beginning of next year, nearly 3,700 building owners will face $200 million in penalties if their buildings are not retrofitted to reduce carbon emissions. And this is just the beginning. The report further states that this number could surge to 13,500 buildings by 2030—with a staggering $900 million in cumulative penalties.
Are you prepared to meet New York City's decarbonization mandates?
What is Local Law 97?
Local Law 97 was enacted in 2019 as the backbone of the Climate Mobilization Act for the purpose of reducing greenhouse gas emissions produced from New York City's largest buildings. The goal is to reduce these emission to 40 percent by 2030 and 80 percent by 2050. So, what measures must landlords take to achieve this goal—and without paying penalties?
How could Local Law 97 affect you?
Under LL97, affected property owners must implement efficiency upgrades that lower their energy usage and emissions. Were you aware that stationary energy sources—such as commercial and residential HVAC and lighting systems—account for more than two-thirds of the city's carbon emissions? This legislation sets greenhouse emissions caps on existing buildings by January 1, 2024. This applies to all types of properties. Owners of rental, co-op, and condominium buildings are feeling the most impact, primarily due to a lack of resources to meet compliance requirements.
Implementing a plan of action
Our goal is to ensure that each of our clients is in compliance—without any delays. —Lou Milo, Founder & Co-Chairman, Milrose
With nine months to go, Milrose Consultants urges landlords to implement a plan of action that will bring their buildings up to code. Or, they must be prepared to face steep penalties. The team at Milrose Consultants advises that architects, engineers, developers, and landlords implement sustainable design and construction strategies that are in-line with construction codes.
During a webinar that Milrose co-hosted with Strategic Partner, Howard L. Zimmerman Architects & Engineers, D.P.C, titled "Preparing for the Next 5 Years: What you need to know about the latest DOB fines and deadlines," Lou Milo, Founder and Co-Chairman of Milrose Consultants, weighed in on the importance of staying in compliance with NYC's Local Law deadlines.
Milo explained "if you fail to comply with a mandated local law timeline, the city will also deny new permits and after-hours variance requests, which you need for construction. They will also refuse to renew a TCO which puts you in violation of certain financial covenants and they absolutely will not issue a final C of O with any violations on the property."
As a recognized leader in the New York City construction industry, Milo offered his expertise on steps that clients should take to both avoid delays and shorten the approval process.
Increase communication among your team with early engagement of code and zoning professionals. Resist the urge to file early, as this can result in longer approval times.

Ask design professionals to review objections that were issued on previously permitted types of work. This is time well-spent as it can lead to fewer agency objections—especially in relation to the Fire Department of New York (FDNY).

Apply building codes universally to the project. Avoid "cherry picking" design solutions for various versions of the code.

Monitor the project on a monthly basis. If necessary, adjust expectations based on current approval times and any known delays at municipal agencies. The more we communicate, the more we can stay on schedule.
Let us be your municipal compliance partner
Are you feeling overwhelmed? Milrose Consultants is here to help! With sustainability requirements evolving so quickly, our team can partner with you to navigate New York City building codes and offer keen insights that increase the likelihood of sustainability success.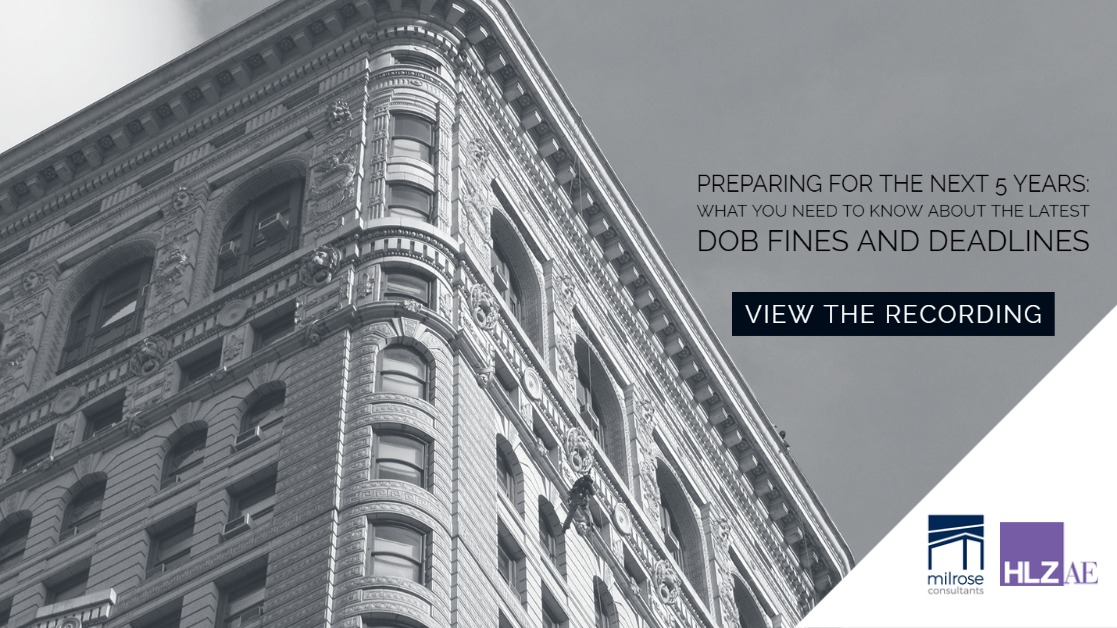 Connect with us today to learn more about our services.