When New York City moved into Phase 1 of reopening, the DOB released new COVID-19 safety guidance for the property owners and contractors of all permitted construction sites across the City. The DOB provided the industry with a one-month grace period and then began enforcing violations for sites found out of compliance with the guidelines on July 8th.
To meet compliance, employers are required to develop a plan for each construction site, submit an affirmation to the State, and display the affirmation at each jobsite. Additionally, inspectors will be checking all 40,000 active NYC construction sites for the following:
6 feet of distance between personnel, unless safety or core function of the work activity requires a shorter distance.
Any time personnel are less than 6 feet apart from anyone (including other personnel, approved visitors, regulatory entities), they must wear face coverings -50% capacity must be posted within the cab AND at each landing A site safety monitor must be designated whose responsibilities include continuous compliance with all aspects of the site safety plan.Tightly confined spaces (e.g., elevators, hoists) occupied by only one individual at a time OR under 50% maximum allowed number of people if all occupants wear a face covering.
Appropriate signage is posted throughout the site to remind personnel to adhere to proper hand hygiene, physical distancing rules, appropriate use of personal protective equipment, and cleaning and disinfecting protocols.
Safety plan(s) are conspicuously posted on site and include a copy of the submitted State affirmation.
A communication plan for employees, visitors, and clients is available at the site.
A continuous log of every person who may have had close contact with other individuals at the work site or area is kept at the site.
There are hand hygiene stations available on site and readily accessible to workers.
A cleaning and disinfection log is present at the site with minimum daily entries.
Construction sites found out of compliance with the NYS and DOB social distancing and hygiene guidelines will be issued violations that carry a financial penalty of $5,000.
If a site does not have a Safety Plan and State Affirmation conspicuously posted and/or is lacking proper hand hygiene stations, the site will be issued a Stop Work Order in addition to the financial penalty. Stop Work Orders will also be issued if five or more violating conditions are observed on the site. To deal with the influx of COVID-19 Stop Work Orders (41 have been issued as of 7/17), the DOB launched a new portal in DOB NOW: Safety to submit SWO Rescind Requests.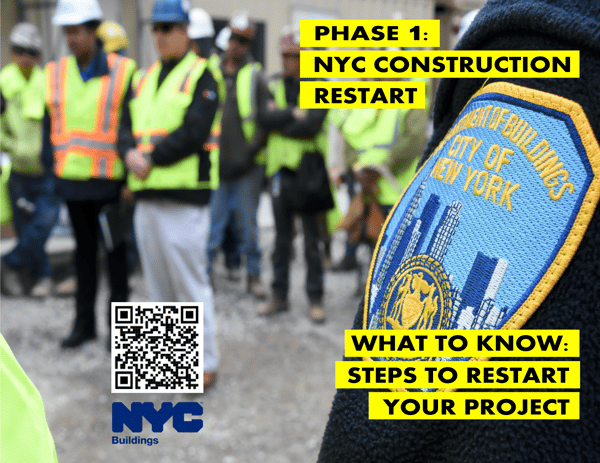 Download a printable version of DOB's Phase 1 Site Safety Requirements here
Please make sure to carefully follow the DOB and New York State's COVID-19 safety guidelines to avoid receiving costly fee penalties and possible Stop Work Orders. If you would like to obtain Milrose's assistance in resolving violations you have received, please contact us today.