Obtaining a Certificate of Occupancy (CO) is the most important component of the project closeout process. Unfortunately, many builders navigating the five boroughs struggle with this essential task. Why? The New York City Department of Buildings (DOB) CO requirements are complicated and involve a lot of moving pieces.
With this in mind, we've put together an FAQ that addresses some CO acquisition basics, along with common pitfalls that NYC builders typically encounter when attempting to obtain these necessary documents.
What is a Certificate of Occupancy?
A CO is the document used to verify the legal intended use and type of permitted occupancy for a building. It confirms that all construction work complies with all applicable laws, all paperwork has been completed, all fees owed to the NYC DOB are paid, all relevant violations have been resolved and all necessary approvals have been received from other city agencies.
There are two types: the Temporary Certificate of Occupancy (TCO) and the final (CO). The NYC DOB issues the TCO in the short term when a structure is safe to occupy but requires additional work or permits to be eligible for a final CO. The TCO is active for 90 days from the date of issuance, while the final CO remains until structural changes are needed that change the egress, use or the legally allowable occupancy numbers must increase.
When do I need a Certificate of Occupancy?
COs are necessary for all new buildings and any construction that results in a change of use, egress or occupancy. In example, converting a restaurant into a retail location would be a change of use, altering building fire exits would result in a change of egress, and scaling back a multi-family home to make it single family would be considered a change of occupancy.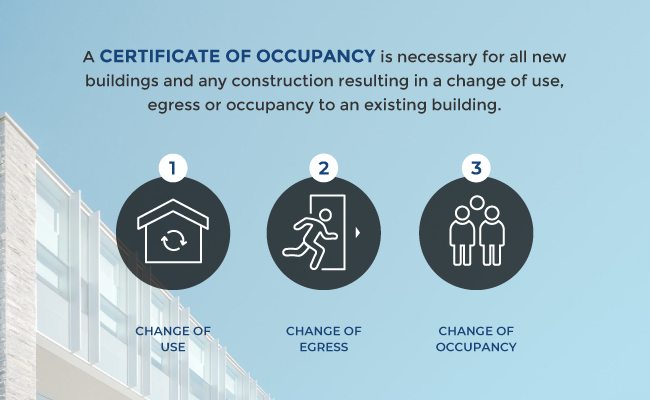 Structures without final COs are susceptible to violations, which may double with each new inspection. That said, the NYC DOB doesn't require COs across the board. Structures built before 1938 are exempt from CO requirements so long as their uses, exits and occupancy levels remain unchanged. Landlords that manage these properties can apply for a Letter of No Objection (LNO) to ascertain their legal uses.
How can I obtain a Temporary Certificate of Occupancy?
In order to obtain a TCO, you must get temporary sign-off from NYC DOB inspectors on four essential items:
Temporary Construction
Temporary Electrical
Temporary Plumbing Signoff
Temporary Elevator Signoff
The TCO application and acquisition process typically unfolds over six or more months after the work is completed.
How can I obtain a final Certificate of Occupancy?
Owners gunning for final COs must close all open permit applications and unresolved violations, property wide. This means that a builder renovating a single floor on a multi-floor structure would need to collaborate with all other building stakeholders to ensure there are no open permits or unresolved violations related to other units. Consequently, obtaining a final CO can take a year or more as a result of these stringent requirements.
What is a PW1A form and why is it key to getting a Certificate of Occupancy?
The Plan/Work Application, Schedule A (PW1A) submission kicks off the CO acquisition process. The NYC DOB reviews the information contained within this document against the previously filed New Building (NB) or Alteration Type 1 (ALT1) application to confirm the PW1 and Schedule A accurately designate the following:
Building code adherence
Fire protection equipment status
Live load
Number of dwelling units
Number of persons
Occupancy use groups
Zoning use groups
The NYC DOB rejects and issues objections to all CO requests associated with inaccurate PW1A forms. These dismissals happen often due to common Schedule A gaffes, including listing incorrect description on floors, dwelling unit counts and zoning use groups.
What are the common causes of Temporary Certificate of Occupancy and final Certificate of Occupancy process delays?
Outside of errors on the PW1A paperwork, other common reasons the NYC DOB will issue objections include noncompliance with the DOB's stringent elevator requirements, construction inspection objections and failed inspections for Plumbing and Sprinkler. However, the most common roadblock to TCO/CO issuance is the difficulty involved in closing out all of the violations across an entire property.
Here at Milrose Consultants, we help our clients avoid these delays by performing due diligence to identify and resolve all building violations. Additionally, we ensure DOB inspections pass by conducting pre-inspection visits, during which our seasoned team members travel to site locations to conduct walkthroughs and identify and address any potential issues.
Why hire an expeditor to assist with CO acquisition?
There's no way around it - navigating the NYC DOB process for obtaining a Certificate of Occupancy can be painful. However, it doesn't have to be. Milrose Consultants has the expertise and resources to streamline the CO process and guide you to approval. A dedicated project team will oversee the project's strategic filing timeline and coordinate with municipal agencies to secure a CO in a timely manner that ensures target dates and occupancy needs are met.
Are you interested in partnering with proven experts to ensure the successful completion of your next project? Our experts have more than 30 years of experience in navigating the ins and outs of the NYC DOB's complex municipal compliance world to accelerate building occupancy for our clients. Contact us today to learn more about our services.