NYC building owners must post the Building Energy Efficiency Rating Label near the public entrance to their buildings by October 31, 2023.
Owners of buildings over 25,000 sq. ft. (or multiple buildings on a lot that total 100,000+ sq. ft.) that appear on the NYC Benchmarking Covered Building List for Compliance in 2023 must post the Building Energy Efficiency Rating Label which showcases the building's 2022 energy efficiency grade at each public entrance to their buildings prior to 10/31/23.
Let's take a closer look at the law and what actions you need to take to become compliant.
What does the law require?
NYC has taken significant steps toward sustainability and other environmental goals. This is best exemplified by the Climate Mobilization Act, a landmark package of green legislation and regulations. The goal is to reduce building-generated emissions by 40% by 2030, and 80% by 2050.
Among the new measures was Local Law 95 of 2019, which amended Local Law 33 of 2018, requiring most mid-size and large buildings in NYC to post energy efficiency grades publicly.
What does the law require?
The main thrust of the law is that buildings will need to display energy efficiency grades similar to how restaurants must display public health ratings. It's an effort to increase transparency, but also to hold property owners and managers accountable for emissions and energy efficiency performance. Tenants may be less likely to rent in buildings with low grades, forcing low performers to improve and help the city reach its sustainability goals.
Local Law 33 of 2018 first established the standards for energy efficiency letter grades, declaring "energy efficiency scores and grades for [covered] buildings shall be obtained, assigned and disclosed."
It's important to understand the difference between "grade" and "score." The letter grade that must be displayed is based on a score that buildings receive from the EPA Energy Star benchmarking tool. A score is calculated on a 100-point scale using data like water and energy consumption, location and number of occupants.
Local Law 95 was passed to update ranges for letter grades:
An Energy Star score of 85 or above will be considered an "A"
70-84 is a "B"
55-69 is a "C"
54 and below is a "D"
Noncompliance leads to an "F"
Exempted buildings and properties for which Energy Star cannot calculate a score will receive an "N"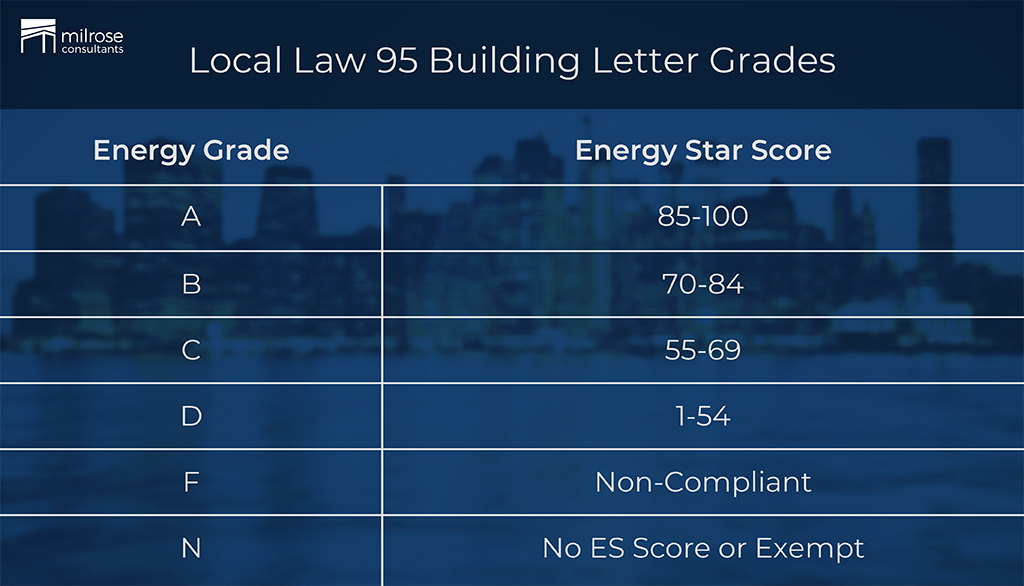 Who does the law apply to?
All structures 25,000-square-feet and larger must comply with the law. However, exceptions are carved out for some multifamily and mixed-use buildings that meet specific criteria, as well as buildings that contain a television studio, data center, and/or trading floor that together make up 10% of the general floor area.
What are the steps to compliance?
Submit benchmarking energy and water consumption data May 1 of every year.





On October 1, obtain your Building Energy Efficiency Rating Label through the Building Energy Efficiency Rating tab in the

DOB NOW Public Portal.



Print and display grade within 30 days (by October 31st).
The physical scorecard should include:
The letter grade
An illustration of the grading scale and where the building falls
The building's Energy Star score
The NYC average Energy Star score
An explanation of how the score is calculated
The building energy efficiency rating for the last two years
Building street address, borough, block and lot
What is the penalty for failing to meet LL95 compliance?
Building owners who fail to display their Energy Efficiency Rating Label by October 31st will be fined $1250 and receive a DOB violation.
Building owners who fail to submit their benchmarking report on time will receive a letter grade of "F" that must be posted on each public entrance to their building by October 31st and the label must remain up until October 1st of the following year.
How can I prepare to meet NYC's upcoming decarbonization mandates?
In addition to complying with Local Law 95, buildings will soon need to meet all of the new energy efficiency requirements outlined in Local Law 97. Local Law 97 of 2019 is the backbone of the Climate Mobilization Act and it will enact some of the most ambitious and expansive carbon emission regulations in 2024. Buildings that are not retrofitted to reduce carbon emissions will be fined a penalty of $268 per metric ton of carbon dioxide that a building emits over its allotted cap.
While the new regulations and grading system may be intimidating, it is clear that investing in energy efficiency measures now is necessary. Looking for help with preparing to meet the upcoming requirements of NYC's Climate Mobilization Act?
Download our white paper that walks you through new benchmarks and energy efficiency considerations when achieving compliance. For project-specific energy code guidance, please contact Milrose's team of code and zoning analysts for assistance.