Last month, McCormick Compliance Consulting (MCC), an industry-leading construction consulting and municipal permitting firm based in Chicago and Los Angeles officially joined forces with Milrose.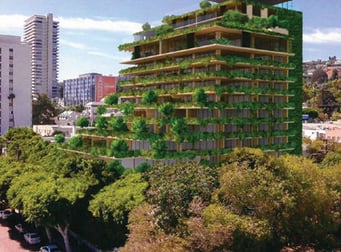 Pictured Above: MCC facilitated all permitting for the West Coast flagship Edition Hotel in West Hollywood.
The new partnership follows a series of recently announced investments in companies including Permit Advisors, SF Codes, Integrated Group, S.I.S., and HLZAE, and falls in line with Milrose's overarching mission to increase our capabilities and geographies so that we can better serve our clients.
We met up with McCormick Founder and CEO Casey McCormick to learn more about MCC and how they plan to partner with Milrose to broaden our combined portfolio of services and deepen client relationships in cities across the country.Specializing in mega development, new-build projects, McCormick Compliance Consulting has worked on several marquee buildings in Los Angeles, San Francisco, and Chicago and has earned a fantastic reputation in the commercial real estate industry.
A lifetime of industry experience
Casey's career got off to an early start. At the age of 14, he took a job at a Chicago-based permitting firm where he learned the ropes of the business. From there, Casey climbed the ladder and worked in all capacities of the firm, eventually managing the organization and scaling it nationally.
After gaining the requisite experience, Casey was ready to strike out on his own, leading to the formation of McCormick Compliance Consulting in 2016. MCC was a one-man shop in its early days, and much of the work fell on Casey himself.
"It was just me when I first started. It was very challenging and I had a lot of work out the gate," Casey said. "Looking back, I don't know how we even did it, but I got it done somehow."
MCC earned new clients and expanded its operations pretty quickly from the start, and it wasn't long before Casey started bringing in additional staff to help carry the load. About two years after its foundation, Casey engaged his brother John, who eventually joined the team as its Chief Operations Officer.
John has played a crucial role optimizing MCC's operations and putting it in a position to handle new business at scale. The company has experienced significant growth over the past few years, leveling out its offices in Chicago and Los Angeles and deepening its client relationships across other cities.
What sets MCC apart: Project roadmap visibility
Before a construction firm can engage a general contractor and begin breaking ground on their project, they'll need to obtain a huge amount of information from their general contractor. Gathering this information and reviewing it with clients at project onset is central to MCC's service offerings.
McCormick works directly with the client to make sure the project schedule is achievable. By reviewing the project details, current approval timelines, and estimated fees on the front end of a project, MCC can manage expectations, ensure all project stakeholders are aware of the necessary requirements, and set realistic timelines.

"The team is always working to make sure the milestone construction dates are understood and the expectations are aligned to get there" said Casey.
At MCC, the key to succeeding at project transparency is providing clients with a Project Roadmap that allows the client to have visibility into the project's progression and gives the entire project team access to all updates and the information they need in order to keep the project moving forward.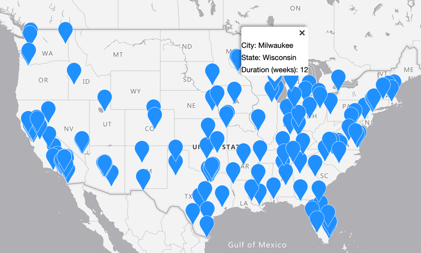 Pictured above: An example of a McCormick Project Roadmap
MCC's Project Roadmap is connected to their internal project management system which is constantly updated to reflect various permit approval timelines for municipalities across the United States. This allows the client to be informed on how approval timelines could impact their project schedule.
Casey explained "If a client has a start date and the duration of the City process puts that date in jeopardy, the client needs to know about it early in the process." He added "The McCormick roadmap takes the surprises out of the permit process so that a reliable schedule can be established."
Delivering exceptional coast-to-coast service
The challenge in expanding nationally is ensuring its partners in different jurisdictions are qualified enough to deliver the Milrose standard level customer service.. By partnering with Milrose, MCC can plug its clients into a national network of trusted code, fire, architecture, engineering and other building consultants and experienced project advisers, giving clients a consistent and high quality level of service no matter where they choose to build.
Casey told us that, "To be able to say to them, 'Hey, we're all one firm now and we have you not only covered in this city, it's with the best in that city,' is a really strong argument for any client."
In addition to being able to service their clients in even wider geographic space, MCC's new partnership with Milrose will allow them to better serve their existing clients by leveraging Milrose's industry-leading resources, technical experts, technology and new value-added services including Code and Zoning, Fire Department, Special Inspections and HLZAE architectural services.
The Milrose family of companies looks forward to partnering with MCC and combining our collective strengths to provide our valued clients with the most powerful platform of code and permitting services in the country. Blue skies ahead!