Being a center of culture and an architectural mecca, it's no secret that New York City has a large number of historically important landmarks, buildings, interiors and parks. In fact, landmark buildings and historic districts represent around 10% of the total built environment of NYC, and up to 20% of Manhattan.
However, protecting the integrity of historically significant structures and districts can be challenging amid the pace of real estate development in the city, which is why the Landmarks Preservation Commission (LPC) was created.
Here's some insight into the designation process and the LPC, which is continuously active in recognizing new landmarks.
What is the LPC?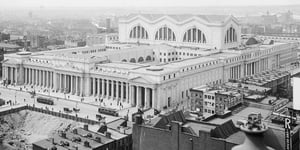 The catalyst for creating the LPC was the destruction of the original Penn Station in 1963. Demolition of the Beaux-Arts train station sparked citywide and international outrage,and occurred amid a period of greater loss of culturally and historically significant buildings in NYC. Soon after, in 1965, the late Mayor Robert F. Wagner signed legislation that paved the way for the LPC, which today is the largest municipal preservation agency in the U.S.

Composed of 11 commissioners and more than 80 preservationists, the LPC's core mandates are to:
Stabilize and improve property values.
Foster civic pride in the beauty and accomplishments of the past.
Protect and enhance city attractions to tourists and visitors.
Strengthen the economy of the city.
Promote the use of historic districts, landmarks, interior landmarks and scenic landmarks for the education, pleasure and welfare of the people of the city.
As of late 2019, the LPC has recognized:
More than 37,000 landmark properties.
149 historic districts and historic district extensions.
1,430 individual landmarks.
120 interior landmarks.
11 scenic landmarks.
What properties can be designated landmarks?
Just about everything from family homes, neighborhoods and delis to skyscrapers and parks have been recognized by the LPC. Overall, there are four main types of properties and landmarks it considers. Here are those classes and the qualifying criteria:
Individual landmarks: Must be at least 30 years old and have "a special character or special historical or aesthetic interest or value as part of the development, heritage or cultural characteristics of the City, state or nation."
Interior landmarks: Must be at least 30 years old and have a special character or historical or aesthetic interest or value. Customarily, these interior spaces are open or accessible by the public (e.g. the Empire State Building lobby).
Scenic landmark (outdoor): Must be an outdoor site at least 30 years old, have a special character or historic or aesthetic interest or value, as well as be a landscape feature or aggregate of landscape features. Typically these landmarks are government owned (e.g. Central and Prospect Parks).
What does the designation process entail?
The pathway to LPC landmark designation is a multistep process that begins with filing a request for evaluation (RFE). Should the intended property or district meet the prerequisite criteria for designation outlined above, the RFE is then moved through the formal designation process, which includes:
Calendaring: After a research presentation, the full Commission votes at a public meeting whether to schedule ("calendar") a public hearing.
Discussion and Designation Report: A detailed report on the proposed landmark or district is written and mailed to owners; commissioners review the draft.
Public Hearing: Anyone may testify about a proposed designation before the full Commission. Notices for hearings are listed on the LPC website and sent to property owners, the Department of City Planning, and community boards and elected officials.
Commission Vote: A majority vote of six (6) Commissioners is required to approve or deny a proposal; designation is effective upon the vote and a final report is sent within 10 days to the City Council and City Planning Commission.
City Planning Commission Review Report: The City Planning Commission has 60 days to review and submit a report to the City Council on the impacts of designation. It must hold public hearings for historic districts before issuing a report.
City Council Vote: The City Council has 120 times from LPC filing to modify or disapprove the designation, which requires a majority vote. The Mayor can then veto within five (5) days; the City Council may override that veto with a two-thirds vote held within 10 days.
What is the permitting process for proposed work?
While LPC landmark status prevents demolition or major alterations that erase character and significance, the trade-off is that renovations or extensions to protected buildings, or development around protected neighborhoods, can be time-consuming and expensive given the various safeguards.
Owners of a landmark or a building inside a designated historic district must obtain a permit from the LPC before performing any type of work. Owners also need to receive a permit from the LPC for any work that requires a permit from the Department of Buildings (DOB).
Overall, LPC permits are required for any restoration, alteration, reconstruction, demolition or new construction that affects the exterior of an individual landmark or a building in a historic district. These conditions extend to any project that affects the exterior envelope of the building, even at parts of the building that are not visible from the street.
As for interior work, LPC permits are required for:
Projects that require a permit from the Department of Buildings.
Projects that affect the exterior of a building, such as HVAC louvers and vents.
Projects that affect interior spaces that have been designated as interior landmarks.
The three types of permits the LPC grants are:
A Permit for Minor Work (PMW) for when proposed work will affect significant protected architectural features, but does not require a DOB permit. Examples include window or door replacements and restoration of architectural details. LPC will review if proposed work is appropriate to the special character or historical value and in accordance with LPC rules.
A Certificate of No Effect (CNE) for when proposed work requires a DOB permit but does not affect the protected architectural features of a building. Examples include interior renovations, installation of plumbing and heating equipment, and other changes that do not adversely affect significant features of the building. The same standard for review applies regarding appropriateness and compliance.
A Certificate of Appropriateness (CofA) for when proposed work will affect significant protected architectural features. Examples include rooftop or rear yard additions, demolitions, construction and removal of architectural features like stoops and cornices. This type of permit requires a public hearing at the local community board and LPC offices.
A note about types of applications and violations
Given the variance in permitting requirements, it's important to note that there are also different types of applications for owners to be familiar with. These include:
Expedited CNE: Available for certain interior work that only takes place above the second story or in the basement/cellar levels. Work cannot be performed on any portion of an interior space designated as a landmark, nor replace windows and skylights, among other conditions. Review time is approximately 5-10 business days.
FastTrack: Available for 14 types of non-visible work, including installation of through-wall HVAC equipment and installation of rooftop decks and railings. Review time is approximately 5-10 business days.
Standard Applications: Available for any visible work and other forms of work not covered by the above two application types. Major alterations in the application may be cause for public hearing. Review time is approximately four to six weeks.
To be approved for proposed work, there cannot be any landmark violations in effect. Violations may occur as a result of non-permitted work or neglect for maintenance. Violation actions taken by the LPC can include:
Warning letters: Sent to owners upon LPC learning of violation describing illegal conditions. Gives owner opportunity to correct situation without paying a fine (first grace period).
Notice of Violation (NOV): Sent if conditions are not corrected following warning letter. This notice provides a second grace period and sets a date for a hearing at the Office of Administrative Trials and Hearings (OATH).
Stop Work Orders (SWO): Issued when illegal work is on-going. All illegal work must stop immediately once the construction site has been made safe upon SWO being sent. Ignoring an SWO will result in additional fines and penalties.
Certificates of Correction: May be included at the back of NOV forms offering owners a final chance to plead guilty to the violation and avoid fines.
OATH hearings: Absent any corrective action, an OATH hearing will take place and could lead to a civil penalty.
Reach out to Milrose for LPC consulting
Need help navigating the complex permitting process for landmark projects in NYC? Contact Milrose's code, zoning and permitting experts today. We have extensive experience working on iconic buildings such as the New York Public Library, Macy's Herald Square, New York Stock Exchange and many more.