Fire Shutters are an essential part of fire safety in many buildings, but getting approvals for these structures during construction can be a challenge. From varying requirements across different jurisdictions and entities to periodic code changes, many construction professionals have trouble getting their approvals in an efficient manner.
We sat down with our in-house team of code compliance experts to learn how they overcome some of the challenges project teams face when it comes to getting approval for Fire Shutters.
What are Fire Shutters?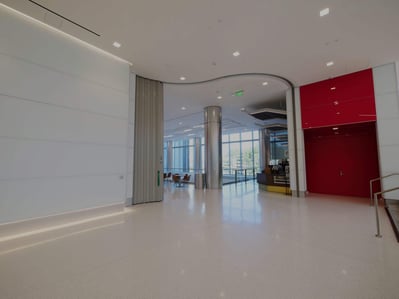 Pictured above: A Won-Door being used to provide fire separation
A Fire Shutter is a construction assembly that's used to compartmentalize smoke and flames in the event of a fire, typically used instead of other fire-rated construction materials, like one- or two-hour rated walls. Fire Shutters are usually used for openings in partitions. They remain open and passable most of the time and are only deployed once the fire alarm system has been activated.
Fire Shutters are used by construction professionals to create open spaces in their floor plans while also meeting the applicable Building Codes related to fire separation and fire-rated construction to help contain and control fire spread in the event of a fire.
When are Fire Shutters used?
The application of Fire Shutters is most common in areas that require openness to accomplish their intended function, including:
Convenience Stairs
Openings between buildings
Separation of uses (i.e. Assembly and Business)
Elevator Lobbies
Exit Passageways
Horizontal Exits
Atrium
Kitchen/Dining Separation
What does the code say about Fire Shutters?
Back when the 1968 Building Code was written, Fire Shutters were not commonly used. Therefore, Fire Shutters follow the requirements for "Opening Protectives" which is defined in the 1968 code as "An assembly of materials and accessories, including frames and hardware, installed in a wall, partition, floor, ceiling or roof opening to prevent, resist or retard the passage of fire, flame, excessive heat or hot gases."
Fire Shutter assemblies are permitted for use in the 2014 NYC Building Codes more explicitly. Any shutter products must conform with applicable NFPA and UL testing requirements.
Shutter Struggles
One of the most common challenges builders face when navigating code related to Fire Shutters is that different regulatory entities and even different jurisdictions have varying (sometimes conflicting) requirements regarding Fire Shutters.
For example, many builders are proposing new Fire Shutters made from stainless steel mesh for convenience and functionality. However, these Fire Shutters usually have difficulty passing the hose stream test, and that causes serious concerns for both the FDNY and OTCR.
Additionally, there is a degree of inconsistency between different entities and jurisdictions that can cause further problems and confusion for builders. From borough-level interpretations across to the FDNY and OTCR, builders often have to navigate more than one regulatory agency in order to get approvals.
Speaking the correct code language
In many cases, using the appropriate, specific terminology can assist in the Fire Shutter approval process. One of our experts shared a case in which builders were trying to increase the density of a majority of their floors by adding horizontal exits. The builders wanted to keep the space as open as possible to maintain an aesthetically pleasing appearance.
To achieve the approval with the fewest obstacles, our team at Milrose crafted language for the request that specifically included reference to automatic fire door assemblies, language that is used explicitly in the most recent code.
As part of this request, our team also itemized all the requirements for horizontal exiting and provided details on how the automatic fire doors in question met each requirement. This project was particularly challenging because it included a mix of assembly doors that had egress and ones that did not, but our specification details provided in-depth details on each. Ultimately, the request was approved, and this approach was applied to other projects with similar success.
Leverage Milrose's Code Expertise
Proposing Fire Shutters that are code compliant can be challenging; a single mistake could cause serious (and costly) project delays. One of the salient lessons that emerged from our recent conversation is carefully constructing the language in Fire Shutter requests is an important step to obtaining approvals.
However, doing so successfully requires teaming up with experts who are up to date on all the latest code requirements.
That's where Milrose Consultants comes in. Our team of code consultants has more than three decades of experience helping companies navigate their construction projects through the complex regulatory approval process.
Contact us today to learn how we can help your team save costs and avoid delays on your next project.