Whether born out of a reactionary push to curtail a growing tide of skyscraping residential towers, or a real concern to prevent developers from using a "loophole" to build vacuous unoccupied spaces in a city starved for affordable housing, on May 29, 2019 the City Council approved a zoning text amendment that would count "excessive" enclosed mechanical voids against the overall buildable zoning floor area.

The significant restrictions apply to forthcoming residential and mixed-use towers planned in specific high-density districts. Prior to the legislation, the sizes and heights of enclosed mechanical spaces were not controlled by New York City's 1961 Zoning Resolution.
According to the final draft, which can be viewed here, the new regulations apply to proposed towers where more than 75% of the overall floor area are to be dedicated to residential uses. Expected to be expanded in the near future, the amendment's current geography applies almost exclusively to Manhattan's special and non-contextual R9 and R10 districts and their equivalents. These districts concern large swaths of the Upper East Side, the Lincoln Center area, Turtle Bay, and areas just north of the Financial District (see map below). The city's most salient high-rise districts such as central Midtown, the Financial District, Downtown Brooklyn, and Long Island City have been omitted in this initial phase but will be studied by the Department of City Planning (DCP) later this year.
The approved bill requires that a mechanical floor exceeding a height of 25 feet must be counted towards the zoning floor area. Furthermore, multiple mechanical floors that are within 75 feet of each other would have their ceiling heights aggregated. If together these floors exceed the 25-foot-high threshold, they will, at least partially, be counted towards the project's overall zoning floor area.
Above the 25-foot threshold, the floor area is calculated by aggregating the total height of the mechanical floor(s), dividing it by 25 and rounding to the nearest whole integer. For instance, a 63-foot-high mechanical floor (or aggregate of mechanical floor heights within 75 feet of each other) would count as two floors of zoning area since 63 divided by 25 is 2.4 which rounds down to two.
Prior to the amendment's approval, The Real Estate Board of New York (REBNY) argued for a higher 35-foot-high mechanical floor cap, noting that current energy and carbon reduction codes require more equipment and space. Several engineers and design professionals testified at a DCP hearing arguing that a 30-foot floor to structure distance provides responsible and necessary space for the systems to deliver the structural, energy efficiency, life safety and resilience required of a modern, high performing building. In contrast, the preservation group New York Landmarks Conservancy argued for a 12-foot-high cap of mechanical floors with at least 200 feet between each floor in order to not be tallied towards the building's floor area. The City Council and DCP compromised at 25-foot-high floors at 75-foot intervals.
Vocal legislators and community groups remain fearful of new tall towers featuring apartments propped up on empty voids. They've argued the new provisions do not go far enough nor cover a large enough area of the city. This first phase of the amendment does not control the floor-to-floor height of non-mechanical floors nor regulate unenclosed spaces such as terraces and outdoor loggias. For instance, the visible voids cut seen in new residential towers such as 432 Park Avenue and 277 Fifth Avenue would not be assessed in the amendment since they are unenclosed.
Another proposed tower at 249 East 62nd Street remains exempt from the zoning amendment since its 150-feet of central void space is also open air. However, city officials requested this project along with Extell Development's under construction 775-foot tower at 50 West 66th Street (which has more than 170 feet of mechanical space) to get written approval from the fire department concerning FDNY emergency access and safety operations. "Tragedies happen, fires happen, and it's going to be up to our first responders to rescue whoever is in this building. I don't think it's right to ask a first responder to climb 150 feet or more of steps just to get where people might be who need saving," said Councilman Ben Kallos who represents much of the Upper East Side.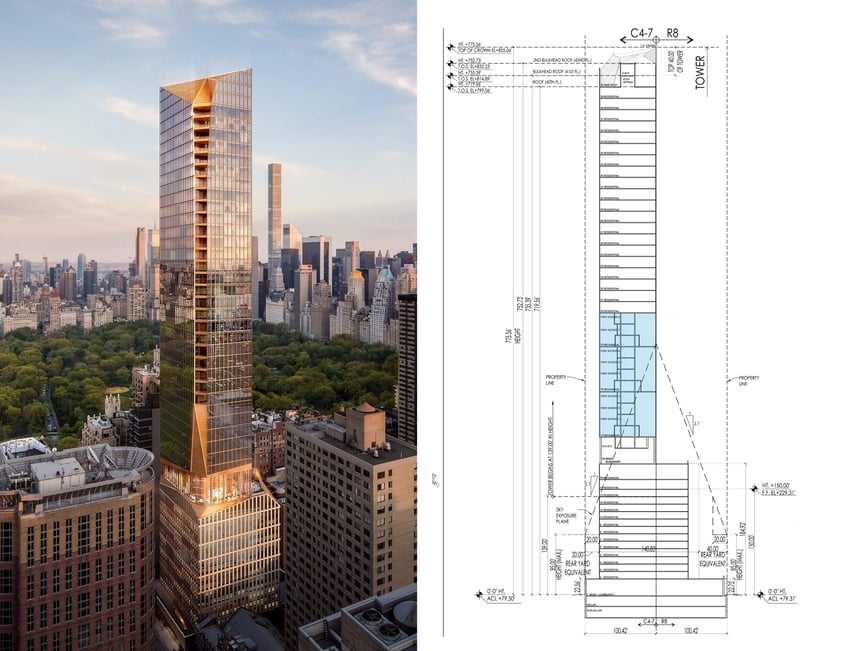 50 West 66th Street, Extell Development
DCP has committed to completing follow-up zoning studies by the end of summer 2019 to look at open-air voids and to further expand the geographic scope into commercial districts. Further on the horizon, Assembly Member Linda Rosenthal and Senator Robert Jackson are co-sponsoring a bill in Albany that would count all mechanical space more than five percent of the gross building area towards the zoning floor area. The bill also seeks to count all outdoor terrace and balcony space toward zoning floor area and limit ceiling heights to 12 feet per floor above the ground level.
Linking mechanical space to zoning area inherently creates pressure on engineers and designers to fit equipment within the already-approved thresholds. Mechanical space counting against floor area could cost developers upwards of $4,000 per square foot depending on the project's location. Current and future restrictions could also hamper design flexibility and limit the use of future innovations. A push to cap ceiling heights on all floors and penalize developers for incorporating outdoor amenity spaces and terraces would also surely result in a less desirable product from the standpoint of both the developer and occupants.
While some push for further restrictions, DCP must walk the fine line between being fair to the building/real estate community while appeasing a small yet vocal cohort of residents. In January, Department of City Planning Director Marisa Lago, said in a press statement, "Creating large, enclosed and empty spaces within a building for the sole purpose of making it taller and enhancing views of residents on the top floors is not what was intended by our zoning rules. This proposal offers a simple and elegant fix to ensure that apartment buildings produce housing, that their size is predictable for communities, and that they can't play leapfrog with our skyline. We welcome innovative and beautiful architecture, not building features that are nakedly gratuitous."
Our code, zoning, and permitting experts at Milrose actively stay informed regarding not only this mechanical void amendment but all of the city's zoning and building code revisions. As this important issue continues to evolve, we will continue navigating building owners, developers, and designers to deliver 100% safe, code-compliant buildings.