In case you missed it, Chicago Bisnow held an event in the windy city's fastest growing neighborhood, Fulton Market. The former meat packing district historically served as an area for warehouses and industrial purposes. Today, this trending community has been revitalized with corporate headquarters, prominent tech, hip restaurants and bars, as well as hotels etc. Moreover, even while there have been efforts to maintain talent and leased square footage in Chicago's Metro-land, Fulton market was the primary neighborhood where office availability fell in 2021. Since the most recent zoning change request and approvals for this northwest district, there has been the utmost excitement with red-hot developments.
The Evolution of the Meat Packing District
Fulton Market continues to paint a picture of Chicago's ever-fluctuating environment. 1045 on Fulton, which served as the event space for the Bisnow gathering, is one of the most noteworthy developments in the district. The building itself reflects a blend of traditional brick construction and contemporary varnishing appeal, which encompasses the current appearance and atmosphere of the area. While Fulton Market endures as Chicago's most prevalent submarket; the modish community holds an undeniable serene industrial vibe, that has been bursting with great developmental activity - there have been over 4,000 residential units planned to arrive in the area between now and 2024. The Chicago West Loop spans around 2.3 miles, meaning there will be an addition of 1,800+ units per square mile. Developers continue aiming towards work-live-play amenities to create a thriving community.
Redefining the West Loop Skyline
Another project highlighted by the Bisnow panelist was 1338 W. Lake, where developers are looking to redefine the West Loop Skyline. This prior two-story commercial building will be adapted into a 51,000-square-foot, 46 story mixed-use building. Once finished, the building will lodge 10,000 square feet of commercial space; 500+ residential units, with around 20 percent of them specified for affordable housing. This development is yet another illustration of Chicago's compelling commercial real estate segment, which has been trending since the 2019 pandemic.
The Rising Challenges of Fulton Market
Granted everything seems to be going well with the surplus of modern developments, panelists at the Bisnow event couldn't help to point out some of the challenges within the district. For Fulton market to continue to thrive as a neighborhood, the area can ascend more by providing a lift of grocers and retailers. But more importantly, there is still concern on how developers and City of Chicago officials can ensure that the existing infrastructure can keep up with persistent growth.
Chicago Code and Zoning
Casey McCormick, CEO of McCormick Compliance Consulting (MCC), a Milrose Company, was a speaker at the Bisnow event; and has been one of the few municipal compliance and permitting experts to stay ahead of the numerous zoning reforms made over time to support expansion. As the premier compliance firm in Chicago with over 20 years of experience, they serve as a key player in pushing emphasis towards infrastructure transformation aligning with the plethora of extreme-density developments; all while retaining the city's ability to continue to invite tourism, residents, and businesses.
Here are three expert tips from Casey McCormick for overcoming current challenges and streamlining the permitting process in Chicago:
1.) Department of Revenue, Debt Check Review:
The Windy City examines all permits via the Department of Revenue. In the case of the building owner accruing outstanding debt, your permit will not be issued. Examples of these debts could be inspection fees, parking tickets or unpaid bills in general. Since the Chicago Self-certification permit process is prompt, it is imperative to gain a head start on the Department of Revenue review; doing so will ensure that the permit issuance is not delayed.
2.) Early coordination with the Direct Developer Services Program:
Early engagement with the Department of Buildings is crucial to success for significant new construction developments. By doing so, you will be able to attain an aggressive construction schedule. Determining peer reviewers, recognizing site conditions and zoning are all vital to prevent delays.
3.) What's under the street?
For all new construction projects, The Office of Underground Coordination (OUC) will always play a crucial role. Typically, the most challenging part of a job are utilities since they create extreme delays and are difficult to coordinate. My team at McCormick Compliance Consulting are the best at what we do because not only do we assist with the early engagement, but our tenacious follow up creates a smooth pathway to navigate the entire process.
The region has illuminated the evolution of the Windy City and persists to expand as one of the hottest national submarkets. Over the past couple of years while everything was downward, stemming from the pandemic, the meat packing district stayed afloat and has risen to innumerable heights. Fulton Market has been a pilot playground for live-work-play amenities and remains an integral part of Chicago's economic machine.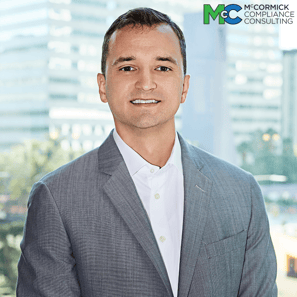 Don't miss out!
If you didn't make the Fulton Market event don't worry! On July 18th, Casey will be speaking at Bisnow's Chicago Major Projects Update; where panelist will be exploring permitting, active job sites and more.
In the meantime, for expert advice about the ever-changing municipal compliance in Chicago; click here to reach out to Casey McCormick, CEO of McCormick Compliance Consulting, a Milrose Company or submit a proposal for our Chicago permitting services.