The NYC Department of Buildings (DOB), the agency that oversees structure development and maintenance throughout the five boroughs, grants hundreds of thousands of building permits annually. Developers, building owners, architects, engineers and contractors must navigate an involved four-part process. Fortunately, these professionals can rely on specialists who have the developmental know-how needed to deal with the complexities and move commercial construction projects along: permit expeditors.

Leading permit expeditors, commonly referred to as "filing representatives," work closely with the DOB to ensure that construction projects comply with NYC building code and zoning guidelines to facilitate the permitting process on behalf of their clients. Permit expeditors are key fixtures within the NYC building space—and with good reason. Without them, construction projects are likely to encounter significant statutory roadblocks that cause delays and drive up costs. The right permit expeditor ensures neither of these outcomes unfold, but how?
Unpacking the DOB permitting process
NYC maintains one of the more complicated building permitting workflows. It is easy to understand why. Overseeing construction within one of the world's densest urban environments requires immense diligence and pragmatism, which the DOB displays through its extensive building permit approvals process. As mentioned above, this unfolds across four parts. During the first two phases, a plan is submitted and reviewed by the agency. The DOB moves onto the construction plans in the third phase before closing out the permitting process by ensuring the completed building is fit for occupancy during the fourth and final phase. This is how permitting normally works: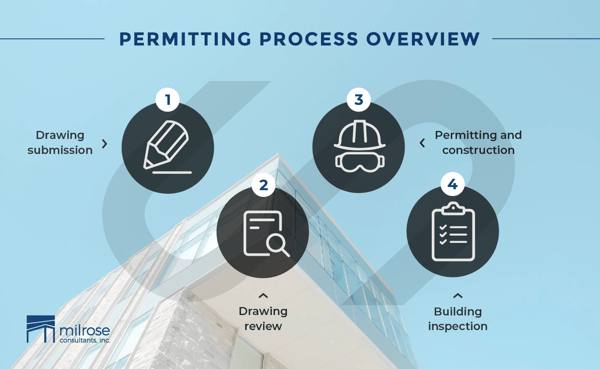 1. Drawing submission: A licensed professional—such as an architect or an engineer of record registered with the DOB—submits blueprints to the agency in person, NYC Development HUB, or through the DOB NOW portal.

2. Drawing review: The DOB uses expansive regulatory criteria to evaluate the submitted building plans, including the presence of key structural information—zoning details such as height and number of floors, for example—along with electrical, mechanical and plumbing specifications. Agency officials typically focus on items covered within Directives 2 and 14 in the building code, which include egress, fire protection, multiple dwelling law and housing code maintenance. If the DOB approves the building permit, it is valid within 12 months of issuance (or until the General Contractor of Record's insurances expire, whichever is first) so long as work begins and continues without pause for one year or more. In the event that the DOB rejects the building plans, the architects or engineers involved must meet with agency officials to discuss the deficiencies that led to rejection, make necessary changes and resubmit.

3. Permitting and construction: The designated contractor/builder applies for a work permit and posts the approved documentation (plans and permit) at the worksite.

4. Building inspection: The DOB, or in many cases a licensed 3rd Party Inspector, inspects the completed structure and the DOB issues a Certificate of Occupancy or Letter of Completion once all sign-off requirements are satisfied, certifying the building has been constructed to code and is ready for use.
This entire process is complex and requires expertise that ensures developers and building owners success. For instance, many get caught up in the plan submission stage due to formatting issues. Others find themselves slogging through work permit approvals as a consequence of lacking public and worker safety measures, which are just two of the many common catalysts for the dreaded stop-work order. These and other common permitting problems make permit expeditors essential. Of course, the issues that arise post stop-work order are even more difficult to address, as owners and developers must reapply for permits and repeat parts of the process to get things moving again. And, the process covered above does not include the dozens of additional permits that must be acquired throughout the lifetime of a project. These encompass everything from demolition and construction equipment usage to boiler installation and fuel storage.
Understanding the role
There are various types of permit expeditors. Some work for engineering or architecture firms while others function independently, maintaining vast portfolios with little assistance, apart from the occasional help of a runner or two. When the role first materialized during the 1980s, expediting services were a cottage industry. Essentially anyone willing to brave long lines, study ever-changing building codes and register with the DOB could attain the job and perform it at least adequately. Many of these mom-and-pop shops weren't professional, reliable or transparent. This has since changed. Back in May 2013, DOB began requiring registered filing representatives to participate in online ethics courses in an effort to increase professionalism. One year later, the agency added on an additional requirement: classroom training on NYC construction codes and zoning laws. Those pursuing a Class 1 certificate must sit through 16 hours of these classes, while those going after Class 2 designations have to complete 36 hours of in-person training.

In addition to providing permit expediting services, top companies also provide code consultants who boast in-depth knowledge of the local, state and federal building codes
governing a given construction project. They wield technical expertise and can review design plans and sort through building codes to provide key pre-submission guidance. They are also adept logisticians and know how to strategically phase a filing sequence to accommodate for the specific needs of their clients.
Finding the right permit expeditor
While there is an abundance of permit expeditors working in NYC, nearly all of whom are registered with the DOB, as with any service, quality can vary. This is why it is important to carefully research potential permit expeditors and pinpoint the individuals who have the expertise and the drive needed to navigate the permitting process. Uncovering bad actors is easy, as the DOB maintains an extensive database of registered filing representatives who are under investigation or have previously been disciplined. Sorting through the array of legitimate NYC permit expeditors is harder. How do organizations embarking on construction projects within the metro area find suitable collaborators in this field?

A few key variables tend to lay the foundation for success—most notably, a history of past triumphs. Qualified permit expeditors can easily run through their track records and point to significant developments that would not exist without their input and permitting expertise. There are, of course, a few individuals or organizations in the city that can fulfill this requirement. And an even smaller number have the decades of industry experience and proven track record of success as Milrose Consultants.

We have been helping move monumental projects along for over three decades, deploying certified and seasoned permit expeditors capable of handling all phases of the permit filing process, from due diligence and initial research to municipal filings and approvals. We also boast highly skilled code and zoning consultants capable of offering powerful insights into projects of all sizes, from monumental skyline centerpieces to simple residential renovations. If you are intent on hiring a proven permit expeditor who can kickstart your project and set you up for success, consider connecting with Milrose Consultants today.