Walk down any street or corner in NYC and you're bound to encounter awnings, canopies and marquees. These features are common for businesses, theaters, residential buildings, diners and all other sorts of public and commercial establishments.
However, understanding the differences between them is harder than one might think. Awnings, canopies and marquees are a common source of confusion among our clients. Each one is defined differently by the DOB and requires different permits.
Save time on your next project by becoming familiar with the various definitions and permitting needs.
Awnings, canopies, and marquees — oh my!
Let's dig into the three types of structures and their required permits:

Awnings

An awning is a covered, framed projection off the side of a building that is supported entirely by the building to which it is attached.
There are two common types of awnings: fixed and retractable.
Installation of either type requires a professional sign hanger and an Architectural Alteration (Alt) 2 application filing.
Permits are also required for:
-Replacement of significantly damaged or deteriorated frames and armatures.
-Repairs to significantly damaged or deteriorated frames and armatures.
-Recladding or retaining existing awnings.
No permit is needed if the work involves:
-Seasonal removal and installation of Landmark Preservation Commission-approved window awnings.
-Fabric patching in a matching material.
-Minor repairs or adjustments to the rolling or folding arm mechanism of an awning's frame.
Cleaning.
Canopies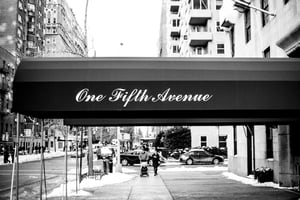 Distinct from awnings and marquees, canopies may be structurally independent of the building. Typically, construction of a canopy requires support from stanchions in addition to anchoring that attaches it to the building.
An Architectural and Structural Alt 2 permit will need to be filed for a canopy, and in many cases a DOT permit as well (if support columns are anchored in the sidewalk).
The steps for getting a canopy authorized include:
Initiating the process through the appropriate borough HIQA office.
Completing and submitting a Canopy Authorization Application.
Applying for Street Opening & Canopy Maintenance Permits from the Permit Office (if HIQA approves authorization).
Undergoing a final inspection.
Additionally, LPC approval will be needed if the canopy is being installed in a historic district.
Marquees

Marquees are often treated by many as being interchangeable with awnings. In the eyes of the DOB, that isn't the case.
They are defined as permanent roofed structures, fully supported by the building.
Installation requires an Architectural, Structural, and Plumbing Alt 2 application filing — although some may be filed as an Alt 3. Also, if the marquee is lighted, it will require a registered electrician who will be responsible for filling an additional permit.
Reach out to Milrose for permitting guidance
Confused about which permit you need to obtain for your canopy, awning, or marquee? You are not alone. Get in touch with the experts at Milrose to learn how you can save time and money through using our DOB and DOT permitting services.