The perception that construction is a male-dominated field is fading, as women have made strides in securing representation and employment in the industry. According to the National Association of Women in Construction (NAWIC), more than 1 million women have jobs in construction today, accounting for nearly 10% of total employment.
During the week of March 1-7, Milrose joins NAWIC in celebrating Women in Construction (WIC) Week. WIC week serves to highlight women as a viable component of the construction industry and emphasize the growing role of women in the industry. In celebration, we want to recognize and applaud all women throughout the field and show how women can build a successful career in construction industry.
To do that, we spoke to Milrose's own Michelle Ortiz, Project Manager Level Two, whose career trajectory within the company has allowed her to advance her career alongside Milrose.
Building a career in the construction industry
From the moment I stepped through Milrose's doors, I haven't stopped growing.
As Michelle tells it, "I didn't choose the construction industry, the construction industry chose me."
Initially focused on a career in technology, Michelle first worked for a software company that served a variety of industries – including construction. Once introduced to the world of construction, she developed an interest in the industry and decided to make a shift in her career path. Her next job would be at a mechanical contracting company, where she'd gain experience in coordinating technician schedules.
In 2012, Michelle began her career at Milrose Consultants as a Proposal Specialist. In that role, she'd work closely with Milrose's Partners and Code and Zoning analysts to provide clients with clear and comprehensive proposals that captured the project's scope in its entirety.
A (super)tall order
One of the proposals that Michelle helped produce as a Proposal Specialist was for a very special project that has gone on to redefine the New York City skyline; One Vanderbilt.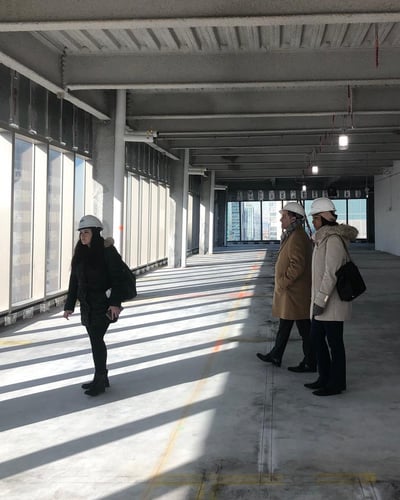 Pictured above: Milrose's Aileen Garced, Anthony Caranante, and Michelle Ortiz attend a walkthrough of One Vanderbilt.
Rising more than 1,400 feet into the sky, One Vanderbilt is now the tallest office building in Midtown and the fourth-tallest skyscraper in NYC. Developed by SL Green and designed by Kohn Pedersen Fox, the 1.7 million-square-foot supertall will feature an underground connection to Grand Central Terminal and deliver $220 million in transit improvements.
In 2015, Michelle transitioned into a project management role where she was able to become involved on the One Vanderbilt project in a new capacity. In her new role, Michelle assisted with coordinating and fast-tracking the building's permit applications and approvals.
"I was honored to assist with coordinating the permits that allowed them to build such a monumental structure," Michelle says.
As One Vanderbilt began to progress toward becoming reality, Michelle was also growing in her own right, having been quickly promoted to Project Manager Level 1 in 2016 and then Project Manager Level 2 in 2017.
How to succeed as a woman in construction
While Michelle has earned her own success, she credits Milrose with supporting and empowering her and other women to thrive in construction.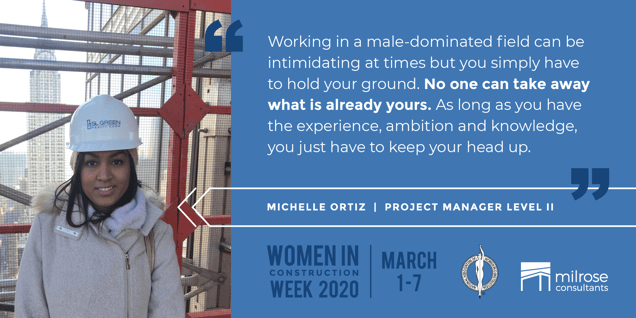 "From the moment I stepped through Milrose's doors, I haven't stopped growing," she says. "This is an environment where you have to use innovative skills and technology to respond to all types of situations. Milrose has provided the right tools to help me become a better and more confident leader. They've also invested in me as a person and professional, giving me the opportunity to be a part of such a historical project for NYC."
As for advice she would give to other women considering a career in construction:
"Working in a male-dominated field can be intimidating at times but you simply have to hold your ground," Michelle says. "No one can take away what is already yours. As long as you have the experience, ambition and knowledge, you just have to keep your head up. Don't be afraid to experience unknown territory."
Now a Project Manager Level 2, Michelle is seeing the One Vanderbilt project through its final stages, as well as reflecting on the progress made. As the main PM for One Vanderbilt, she recently joined the Milrose C of O team on a walkthrough of the building, where she was able to inspect some of the same work she originally filed for.
"It was astonishing to witness the work being done, to see its growth from a vision on paper to one of the largest buildings in the city" Michelle says. "It's really surreal how time has flown from developing the proposal to now."
One Vanderbilt is set to officially open to the public on August 4, 2020 while the skyscraper's 59th-floor indoor/outdoor observation deck is expected to open at the end of 2021.
Are you interested in a career in construction? Learn about our current career opportunities at www.milrose.com/careers and email your resume to careers@milrose.com