In March, New York City Mayor Bill de Blasio proposed a series of zoning reforms that aim to create more grocery stores, improve public transportation, and support small businesses. The zoning changes set forth in the proposal, which entered the public review process last week, are expected to go into effect before the end of 2021.
What are the proposed zoning changes?
Expansion of the FRESH program, an urban redevelopment and food access initiative providing tax and zoning incentives for qualified businesses,

Elevate Transit: Zoning for Accessibility

program, a zoning initiative designed to improve and safeguard handicap accessibility to the city's transportation systems.
Allowing NYC's

Open Restaurants

program

, which provided outdoor dining options for restaurants during the COVID-19 pandemic, to become permanent.
Health and Fitness Text Amendment to remove the requirement for a special permit to be able to open

gyms and other health facilities;



Expansion of FRESH program
New York City established the Food Retail Expansion to Support Health (FRESH) program in 2009 as a way of promoting the construction of supermarkets and grocery stores in lower-income parts of the city.
The FRESH program works by offering developers the opportunity to receive additional floor area ratio (FAR) in exchange for building a FRESH supermarket. Developers can receive 1:1 square foot FAR bonuses for every dozen inches of food shopping area they provide, up to 20,000 sf.
Currently, 19 community districts are designated under the FRESH program, disproportionately concentrated in the Bronx and parts of Brooklyn. City managers have approved 22 projects under the FRESH program, amounting to $100 million worth of investments. These projects have helped create and retain 1,600 jobs throughout the city.
The FRESH program expansion will bring the program to 11 additional neighborhoods: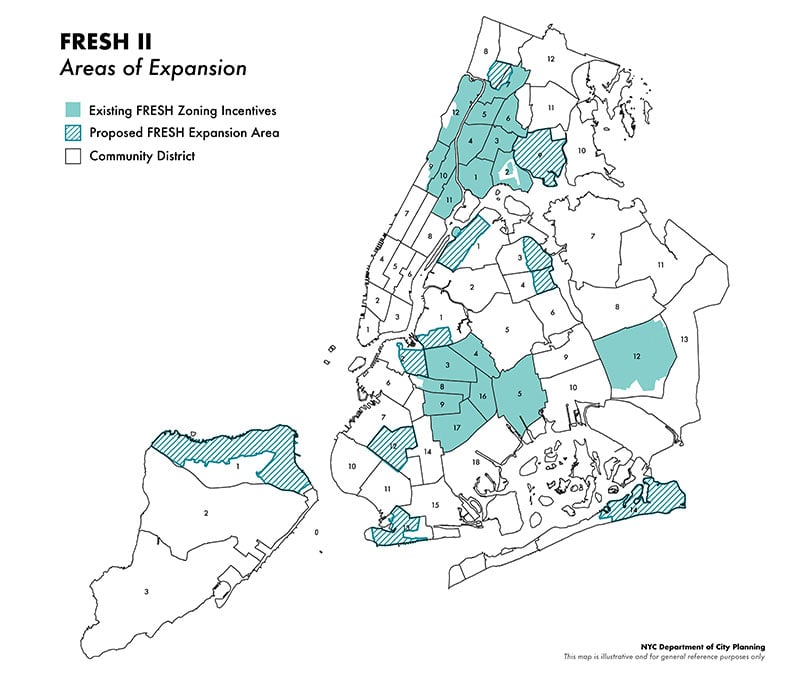 Featured above is a map of the current and proposed FRESH zoning areas (Credit: NYC DCP)
The FRESH expansion proposal will also remove the requirement to replace walls with windows in existing buildings, include a waiver from parking requirements for sites using up to 10,000 square feet of retail area in lower density residential districts. and include criteria that applicants must meet in order to prevent clustering of supermarkets in certain areas.
Elevate Transit: Zoning for Accessibility
The city's Zoning for Accessibility program seeks to utilize zoning changes and leverage private development to accelerate much-needed public transit accessibility upgrades. It is intended to make public transit more easily accessible to all New Yorkers, particularly people with physical disabilities, seniors, parents of young children in strollers, and others.
Disability access is a significant problem for New York City's public transportation system. Out of 493 total subway and railway stations across the city, only about 30% are handicap accessible. This severely limits the range to which people with disabilities are able to travel throughout the city, greatly reducing their social and economic opportunities.
Through a series of zoning guidelines, the Zoning for Accessibility program will work with the Metropolitan Transportation Authority to expand areas around public transit stops to give designers more space to construct elevators to give people with disabilities greater access to underground subway stops.
Under the proposal, property developers would be obligated to work with MTA authorities to determine what considerations were needed to keep stations handicap accessible when constructing new buildings adjacent to public transit stations. The proposal also intends to expand zoning bonuses for developers who construct station access improvements in high-density areas of the city.
Open Restaurants to be made permanent
In addition to his commitment to expand the FRESH program, de Blasio also pledged to make the COVID-era Open Restaurants program permanent. Open Restaurants was started in response to the pandemic to allow restaurants to continue operating and lessen the economic blow of the restrictions.
This program allows restaurants to apply to use adjacent sidewalks for seating, as long as they abide by a series of restrictions and stipulations. Some of these include:
Tables, chairs, heaters and other outdoor dining accessories have to stand up against the side of the business
There must remain an 8-foot path for pedestrian use
Subway grates and bus station stops cannot be blocked or impeded
Any additions made cannot be permanently bolted into the sidewalk
A different but related initiative is the Open Streets Temporary Full Closure program. Under this program, community-based organizations and groups consisting of three or more restaurants occupying the same block can apply for seating in temporarily closed roads.
Open Streets is permitted for such uses as outdoor dining, retail and community programming. Nonessential traffic is not permitted on roads using Open Streets, but a 15-foot emergency lane must be made available for emergency vehicles.
Health and Fitness Text Amendment
Currently, an outdated zoning rule requires business owners to obtain a special permit from the Board of Standards and Appeals to be able to open a gym, exercise studio, or many other health-related businesses. The process for obtaining the special permit is costly and time extensive. As the health and wellness sector has been hit hard by the pandemic, the city is proposing allowing these facilities to open on an as-of-right basis, bypassing the need to obtain special permit approval from the BSA.
Maximize the ROI on your next project
The above proposed zoning incentives could present developers and business owners with many great opportunities in the near future. Contact us for assistance with understanding the potential zoning bonuses your project could be eligible for.
Interested in learning how to maximize the ROI on your next project? Click the button above to download our white paper, "Planning for spatial success: Unpacking the ROI of zoning analysis".