FRIENDS and past *Spotlight Alumnus pictured above L to R: *Philip Bottega (SL Green), *Deborah Verderame (Verderame Cale Architecture), Roger Smith, Domenick Chieco (Milrose Consultants), Dean Maria Perbellini, John Sorrenti (JRS Architect, P.C.), *Al Ronci (Willis Towers Watson), *Peter Ruggiero (HOK), *George Kaufmann (JLL), James Powers (Bohler Engineering) and *Thomas Scerbo (AECOM).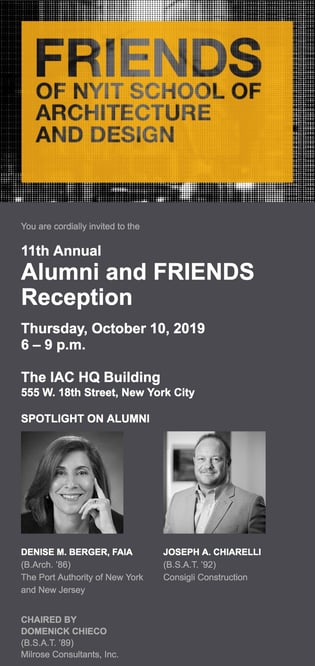 The FRIENDS of the School of Architecture and Design and New York Institute of Technology School of Architecture and Design will host the 11th Annual Alumni and FRIENDS Reception at the iconic IAC HQ Building located at 555 W. 18th Street on Thursday, October 10th from 6:00 P.M-9:00 P.M.
This year's Spotlight on Alumni are Denise Berger, FAIA, Chief of Operations, Engineering Department, Port Authority of New York and New Jersey ('86) and Joseph Chiarelli, President, New York City Metro Operations, Consigli Construction ('92). Domenick Chieco, Managing Partner of Milrose Consultants, and a graduate of the class of 1989, will chair the event.
The evening will be a great opportunity to network, celebrate success, and inspire and support NYIT students. In addition, students of the NYIT School of Architecture and Design will showcase and discuss their current projects with event attendees. The deadline to register to attend the event is September 23, 2019. Please click the button below to confirm your attendance.
Sponsorship dollars raised through the event will go towards the FRIENDS mission of promoting a working relationship between the architecture, construction, and interior design professions and NYIT School of Architecture through funding student scholarships. guest lectures. and conferences.
Interested in sponsoring this year's event and providing your support to current and future NYIT students? Please click here to find more information on the 2019 Sponsorship Opportunities and download the sponsorship form.
If you have any questions about the event or sponsorship, please contact Barbara Pimentel at 212-894-0122 or bpimentel@milrose.com.