Adaptive reuse projects certainly aren't new (the first known project took place in 1793), but we here at Milrose are glad to see that these innovative undertakings are finally increasing in popularity across the nation. Right now, our nation's capital is one of the hottest places for adaptive reuse as D.C. developers and the General Services Administration (GSA) are taking full advantage of all the benefits these types of projects offer.
Because the projects leverage already-existing structures, adaptive reuse projects sometimes cost less and can boast faster timelines than new construction. Building permit data and development activity in D.C. has proven historic preservation has increased real estate values, boosted tourism and revitalized areas like Barracks Row and U Street. Additionally, D.C.'s adaptive reuse projects have given some of the nation's greatest architectural treasures new life for future generations to enjoy.
That's not all, though. Adaptive reuse benefits Washington, D.C. in extra ways than the more obvious advantages mentioned above. Here are three additional benefits these projects are bringing to the area…
Strengthens the Community
Architects are naturally drawn to cutting-edge design, but older buildings often have a charm that some modern, sleek buildings might lack. Watching beautiful aging buildings get repurposed into useful new construction is a transformative experience—and considering the way communities often embrace adaptive reuse projects, we're guessing we're not alone in our wonder.
In fact, adaptive reuse projects are often championed by local groups and area residents, who find rescuing old historic buildings to be both personally rewarding as well as beneficial to their communities. Adaptive reuse reinvigorates communities by reminding them that they're a part of something bigger: their apartment is part of a neighborhood, their neighborhood an integral part of their city, and, especially in D.C., their city is a critical part of their nation.
As people begin to see where their neighborhood fits into the bigger picture, they also often start to discover details about the history of their community; and uncover some fascinating facts and stories.
For instance, Washington's recently revitalized Uline Arena hosted the first live Beatles performance in the U.S. in 1964; an incredible slice of history that anyone would want to be a part of (except, perhaps, Elvis Presley fans).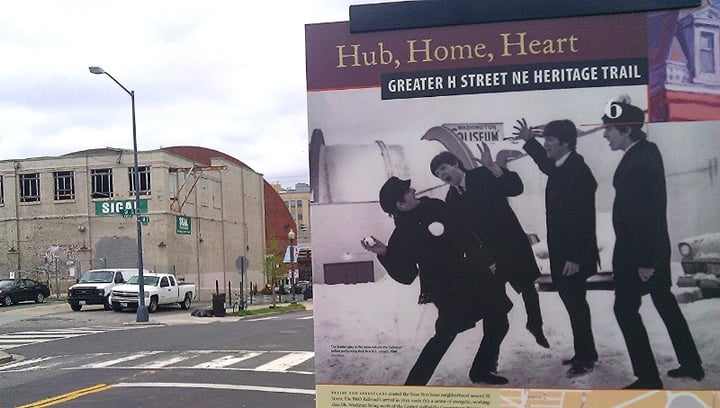 Photo Credit: 'Washington Coliseum' by Mike Licht under CC BY 2.0
Reduces Environmental Impact
Take a moment to consider the energy impact of material manufacturing and commuter transit. Now, take another moment and think of all the resources that go into erecting a new building. Building something new is a huge undertaking and it's extremely exciting… but it does take a lot of resources.
As our cities and nation begin to reconsider their environmental impact on the world's stage, many developers are now seeking ways to become more sustainable. Adaptive reuse projects help to update aging buildings so that they consume fewer resources, and the reduced environmental impact of modifying an existing structure means that many adaptive reuse projects are eligible for a wide range of economic incentives.
In D.C., developers can take advantage of opportunities from the DOEE (Department of Energy and Environment) as well as DC PACE (DC Property Assessed Clean Energy) funding, which can cover 100% of project costs with no out-of-pocket payments and up to 20 years of affordable fixed rate financing. These incentives make adaptive reuse projects very attractive; they also help mitigate some of the costlier elements of modernizing in the District, such as those tricky stormwater management requirements that mandate water collection and reuse.
The recent LEED Platinum-certified Thomas P. O'Neill, Jr. Federal Office Building (formerly known as Federal Office Building No. 8 and home to the FDA labs), includes a large number of green improvements, which give the building—and our planet—a new lease on life.
Puts Eyes on Washington, D.C. Adaptive Reuse Structures
Everyone, from architects and developers to the everyday man on the street, agrees that there's something magical about watching an old building or lot transform into something new and modern. Unique adaptive reuse projects catch the public eye in a way that new construction can't. Because of that, these projects provide a lot of news and exposure for their developers and commercial tenants.
In Washington, D.C., the conversion of the old Wonder Bread factory drew attention to the old forgotten building. Interested passersby now study the restored facade with interest, sharing stories about how the white crosses on the building, similar in looks to the American Red Cross logo, were a psychological cue that the bread made in the factory was just as sanitary as bread made at home (which was a worry at the time).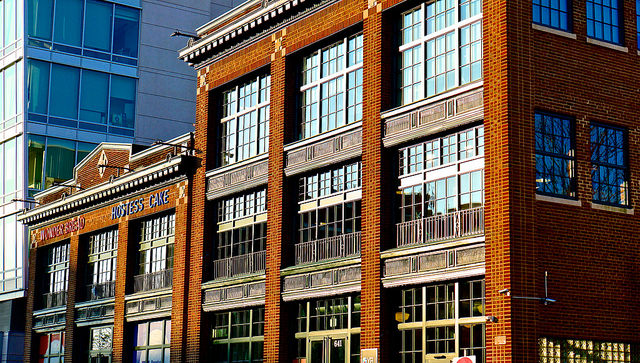 Photo Credit: S and 7th Streets by Ted Eytan under CC BY 2.0
Another example, though the foot traffic in Arch Square is higher than anywhere else in the city, pedestrians spent years ignoring the historic buildings owned by Yeni Wong next to the Chinatown arch. Pedestrian inattention left the buildings to sink into debt and disrepair over the years, but when the three foreclosed buildings were purchased and then updated and combined into a single floorplate, the high visibility of the project piqued the public's—and an investor's—curiosity, leading to the largest all-time record for per-square-foot pricing in the D.C. area.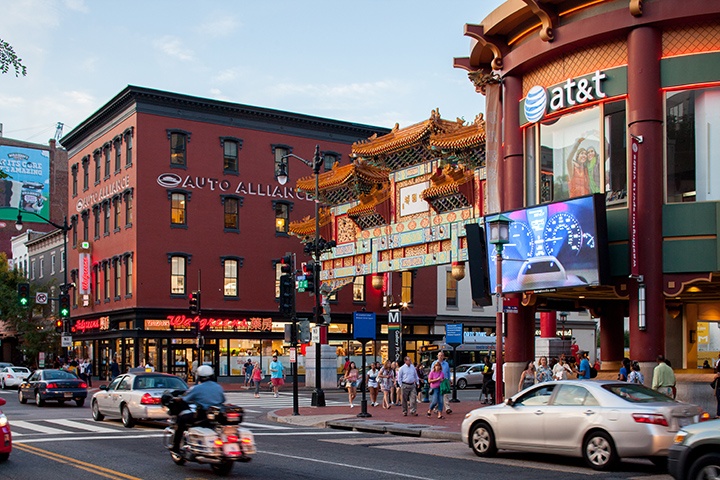 Photo Credit: McCaffery
There's Nothing Quite Like Making Old Buildings New Again
As we all know in the design industry, they just don't build 'em like they used to. This is both a good thing (safety regulations!), but it also means that younger architects may never get a chance to work with those gorgeous traditional materials that the draftsmen of the past used to create tough, long-lasting buildings that would stand the test of time.
That is, unless they get the chance to participate in adaptive reuse projects.
As we look toward our nation's future, we must also become deeply familiar with its fascinating past and engage the public in a discussion of our past and future too. Luckily, the increased focus on adaptive reuse projects makes that goal possible.
Milrose has a wealth of experience in transforming historic structures into new spaces and experiences that meet today's building and energy code standards. If you would like assistance ensuring full code compliance on your Washington, D.C. area project, please contact us today and we'll be happy to assist you.