The rise of coworking spaces has been one of the dominant headlines in real estate and construction. SMBs, nonprofits, startups and entrepreneurs — among others — have increasingly ditched traditional ways of working and rented space in coworking locations.
No other story reflects this growth of the coworking market quite like the rise of WeWork. But what was supposed to be a banner year for the business in 2019 turned sour — and there are now questions whether the overall coworking market will follow.
Landlords and developers have expended tremendous effort to get up to speed on flexible working environments, like in understanding what amenities are popular and what building code and zoning challenges exist. Here's what commercial real estate professionals need to know about WeWork's impact and the forecast for the coworking sector.
Sharing economy drives coworking growth
Technology and social trends have influenced how would-be business renters now approach the question of securing office space. Increasingly, growing and small-to-medium companies have sought flexible office space instead of entire floors. Businesses that don't need all the space can pay for the units and desks they need, as well as gain access to kitchens, recreation, communication equipment, meeting rooms, gyms, social common spaces and other amenities.
Demand for coworking spaces has grown considerably among businesses, startups and freelancers. According to a CBRE Group report, flexible office space supply grew 34% for the year ending quarter two 2019, and could account for 30% of all office space by 2030.
What's driving this growth?
As remote workforces become more commonplace, companies that can stand to downsize real estate have been empowered to do so by the success of coworking environments. The emergence of the sharing economy has also spurred interest and adoption of coworking, as flex office spaces can include perks like weekly events, concerts, trivia, relaxation rooms, curated food and draft beer stands.
What happened to WeWork?
WeWork, the billion-dollar operator accounting for a third of flexible office space, had come to embody the stunning growth of coworking. A modern darling that dominated headlines and investing circles, the landlord acquired square footage by the millions and grew to a $47 billion valuation as late as summer 2019 when it was preparing its initial public offering.
Everything fell through quickly thereafter. After a series of corporate governance issues were revealed and compounded by a cash flow crisis. By mid-October, WeWork:
Shelved its much-anticipated IPO.
Lost nearly $40 billion in valuation.
Lost its founder, who was forced out.
Had to secure emergency financing.
What fallout is the coworking market exposed to?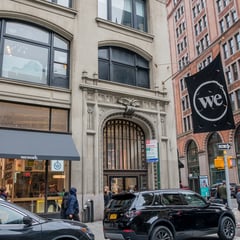 It was a remarkable turn of events, the aftershocks of which may soon reverberate through the coworking market. While not the only company in the industry, WeWork's rapid fall could precipitate downward pressure elsewhere in coworking real estate, particularly in NYC, where it accounts for 2% of total office space, according to numbers cited by MarketWatch.
If WeWork falters and has to give back space, it would create a vacuum in the market. And should coworking's popularity fall with WeWork, landlords may experience rising commercial vacancies and falling office rents, according to Fox Business. These effects may also be felt in San Francisco, where WeWork has a massive footprint. Other metro locations, like Denver, are still riding the flexible office space boom.
Pictured above: WeWork's new Made by We location in NYC
What's the forecast?
In reality, the coworking industry exists independent of WeWork. Barring a recession, coworking is projected to grow more steadily as space limitations in urban locales squeezes potential.
If WeWork is diminished in the future, that leaves the door open for other market entrants or landlords themselves to seize opportunity. As noted by CityLabs: "If WeWork leaves the picture, there's nothing stopping landlords from building their own flexible offices, renting them out in pieces, and cornering the market that WeWork championed."
What do landlords need to know to take advantage of these potential future opportunities?
In order to be successful in another recession, Bizjournals predicts that landlords may need to offer more flexible lease terms and adjust the cost of space to be competitively priced with other coworking providers.
While there are many factors at play in the future of the coworking market, these types of spaces will always have to adhere to the local code and zoning regulations. If you are looking to lease a portion of your building for office use or embark on building a new coworking business, turn to Milrose's code and zoning experts to help mitigate any potential issues and ensure you obtain full compliance with all local code and zoning laws.