As predicted, discontinuing the 421a Tax Incentive program pushed residential new building permits down in 2016. But there is hope on the horizon. In the first quarter of 2017, the Department of Buildings issued 6,000 new residential building permits – the highest number of permits approved in a decade.
A Look Back at 2016:
New construction starts throughout all five boroughs of New York City were down year-over-year 2015 to 2016, with Brooklyn continuing to lead the way with 4,503 new housing units approved.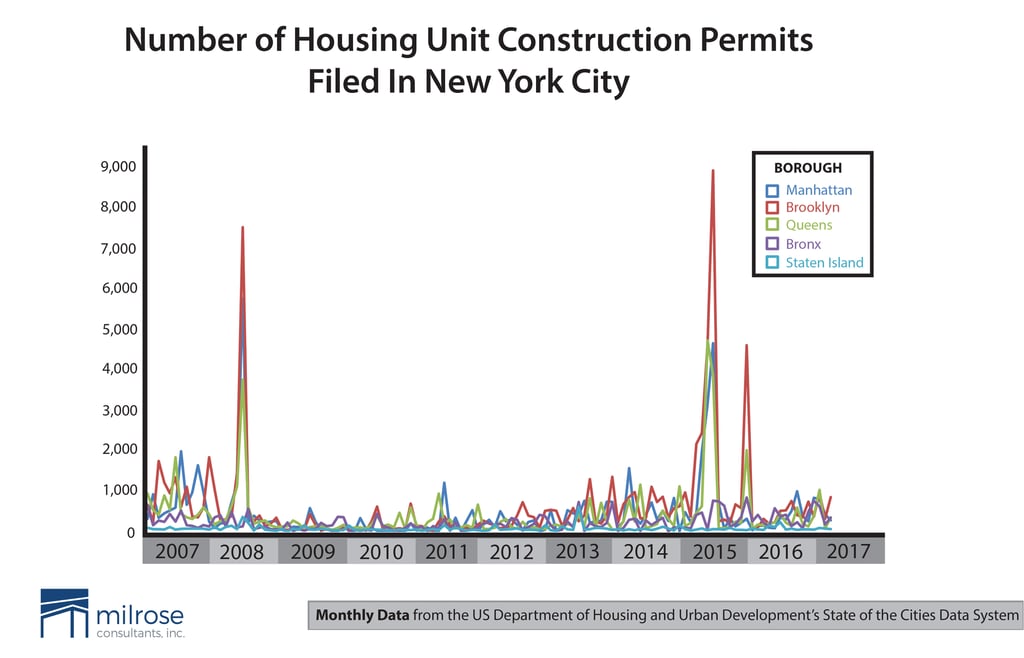 Above: Year-over-year analysis of the number of new residential building permits filed in New York City's 5 boroughs (2007-2016).
The borough of Brooklyn had the highest number of housing unit construction permits for the past five consecutive years (from 2012 to 2016). The high point of their lead occurred in 2015 when they approved more permits than Queens, the Bronx, and Staten Island, combined.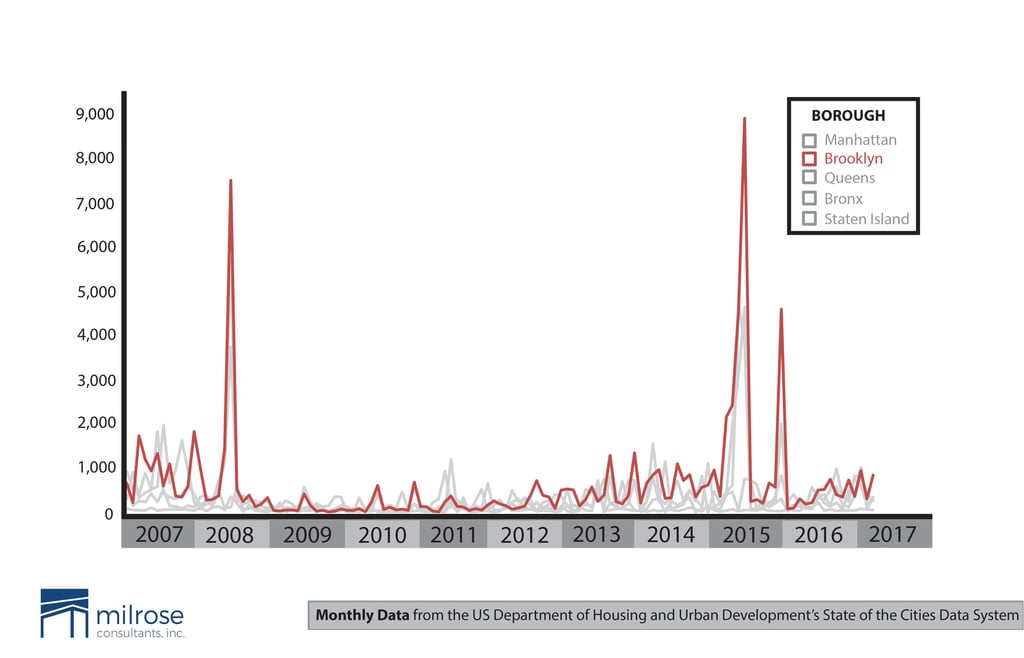 Above: Brooklyn approved 4,503 new housing units in 2016.
Manhattan and the Bronx came in a veritable tie for second with approximately 4,000 permits each in 2016.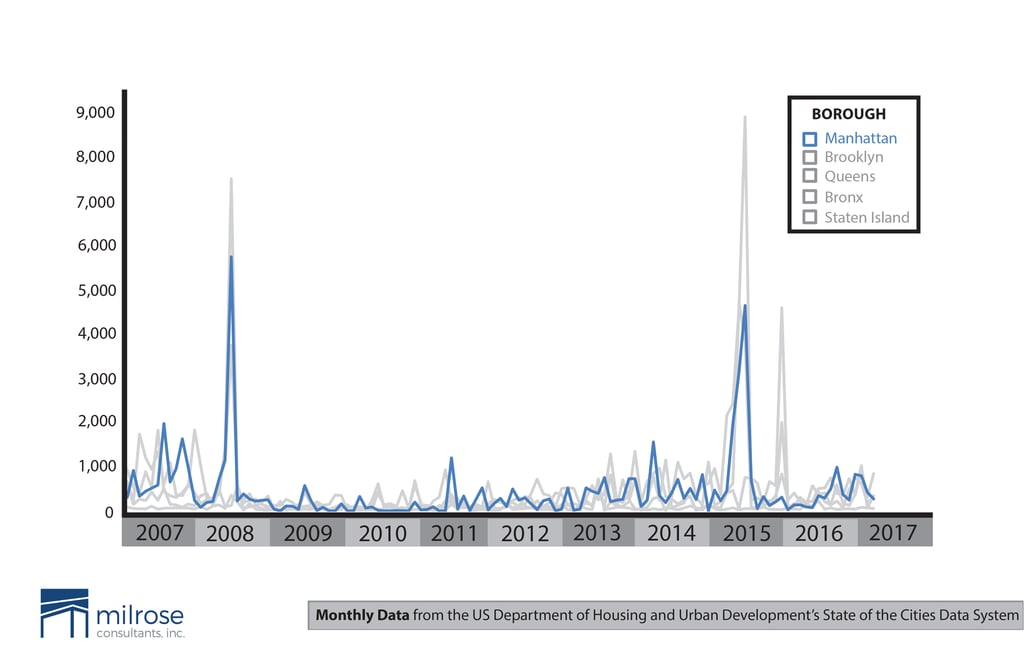 Above: Manhattan approved approximately 4,000 new housing units in 2016.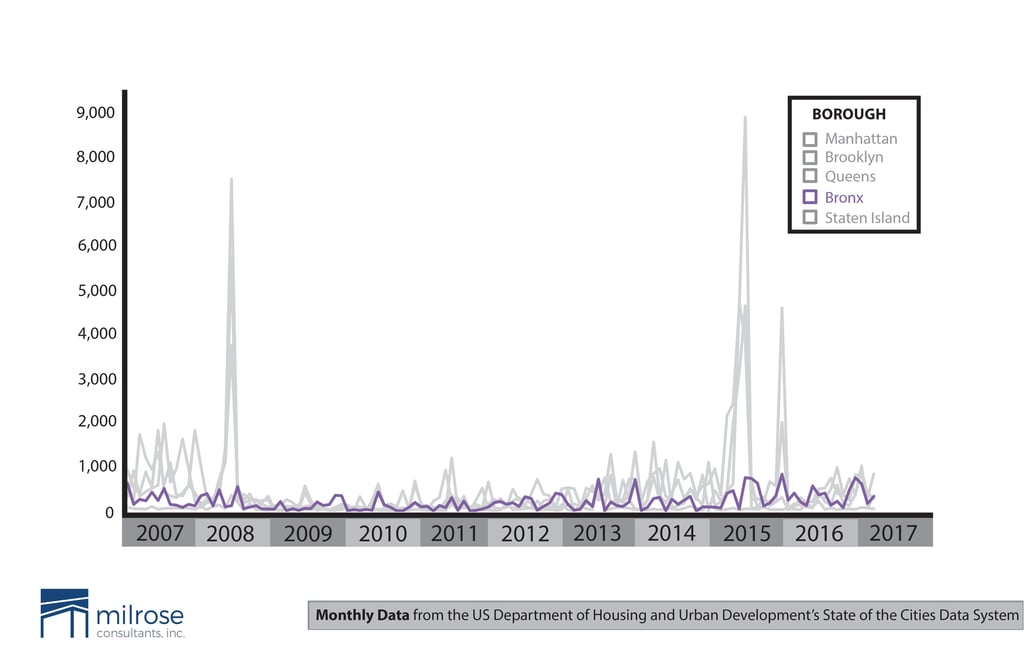 Above: The Bronx ended 2016 with the approval of 4,000 new residential building permits.
Click here to view the year-over-year analysis of residential building permits filed in all 5 boroughs
Looking Ahead at Brooklyn's Bright Future
According to a new report by the New York Building Congress, the DOB approved 2,097 new housing units in Brooklyn during the first three months of 2017 – enabling the DOB to greenlight the highest number of permits during the first quarter of a year since 2007.
The trend may show that the demand for new housing in New York City is still strong, especially in Brooklyn and that investors still believe they can get a return even without the 421a tax incentives, or as an article in the Real Deal pointed out, many of the starts may have filed for a basic foundation permit before the expiration of the program. Either way, it was an encouraging quarter of new construction for the City.
Whether or not residential real estate will continue the pace throughout the course of 2017 remains to be seen and we will continue to monitor the trends and report back.
For a closer look at the major monthly spikes in permitting throughout the boroughs, see Residential Building Permit Trends: Development in Brooklyn.