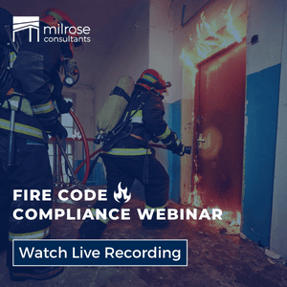 Last month, Milrose Consultants hosted a webinar where their panel of experts—Jon Colatrella, PE, CEM, CBCP Executive Director, MEP and Forensic Engineering at HLZAE, and Jeremy Fallica, Milrose Fire Code Services Manager—discussed the latest news in meeting fire code compliance in New York City. Read on for an overview of New York City's fire protection requirements, the recent changes that have gone into effect at the Fire Department of the City of New York (FDNY), as well as other proposed upcoming changes. You'll even learn helpful tips and best practices for streamlining the fire alarm approval process. Bring on the heat!
Milrose's Expanded Fire Protection Services
Milrose recently significantly expanded its portfolio of fire protection services after welcoming Integrated Group, Special Inspection Services, and Howard L. Zimmerman Architects & Engineers, DPC into the Milrose Family of Companies. Through these new partnerships, Milrose is now equipped to provide holistic end-to-end fire protection services for its clients. These offerings include:
FDNY Application Submissions
Fire Alarm and Fire Suppression Design & Filing

Arc System Design & Filing

Smoke Purge System Design & Filing

Emergency Generator Design & Filing
Fire Code Variances
Fire Alarm Phased Inspection Variance (New Buildings, Major Alt 1)

Installation Variation

–

Fire Command Station

Concealed FA Devices
Engineering Applications
Standpipe (Fire Hoses)

Fuel Storage

–

Letter of No Objection

Medical Gas
FDNY document research and/or dismissal
Violations/Notice of Defect/Letter of Approval
FDNY TCO Affidavit Testing – All NB & Major Alt. 1 Enlargements
Post-FDNY inspection testing for TCO, based on Notice of Defect

Temporary Certificate of Occupancy (TCO) Affidavit issued to C of O team for submission to Department of Buildings (DOB)
Project Authorization Letters (PAL)
With over 20 years of industry experience, Colatrella kicked off the discussion by saying: "At the heart of every fire protection system, it's all about getting occupants out of a building safely."
Fire Alarms, Fire Suppression, and Standpipes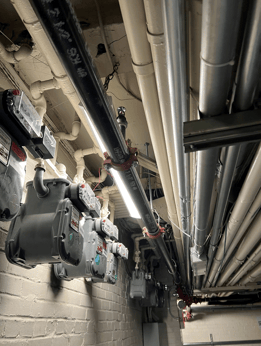 The DOB requires buildings to install fire alarms, fire suppression systems, or standpipes. Below is a snapshot of these basic elements of a fire protection system:
Fire alarms alert the building occupants about fire and smoke hazards within the building and typically are connected directly to the Fire Department.
Fire suppression systems detect fire, based on elevated temperatures, and attempt to extinguish the fire with water sprinklers or other devices.
Standpipes provide water access points for fire hoses and other fire suppression devices inside a building.
Installation of fire alarm and fire suppression systems must be approved by the Fire Department before a building can be occupied.
*Fire alarm, fire suppression systems, and standpipes must also undergo routine testing and maintenance as mandated by the Fire Department.
Auxiliary Radio Communication (ARC) System Application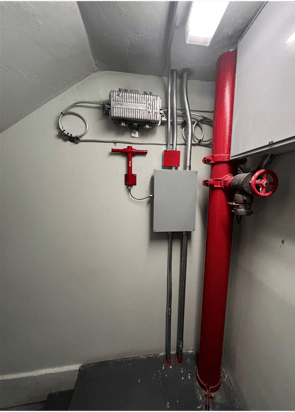 An auxiliary radio communication system (ARCS) is a wireless two-way building communication system that's used exclusively by the Fire Department. This system receives and transmits Fire Department portable radio frequencies, which allow for seamless communication between firefighters throughout the building.
Colatrella explained that an ARC system is required for all newly constructed high-rise buildings and existing buildings that undergo major alterations. He said these ARC systems are required to be:
Designed

Installed

Acceptance tested

Operated and maintained
In order to submit an ARC system design for review, it must be certified by a New York State registered design professional who holds either a Professional Engineer License or a Registered Architect License. It's important to note that the design professional must design the system so that it complies with all applicable codes.
Smoke Purge System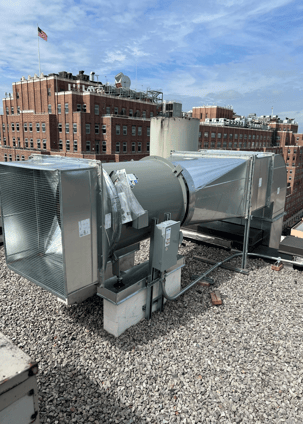 In the New York City (NYC) Building Code, a post-fire smoke purge system is defined as a natural or mechanical ventilation system intended to remove smoke from indoor areas once a fire has been extinguished.
The NYC Building Code lists the four cases where these systems are mandatory:
High-rise buildings that are subject to Section 403 of the NYC Building Code.
Buildings where any floor has as area of more than 50,000 square
Buildings with spaces located at least 100 feet away from natural ventilation openings, which are defined as operable windows and doors with at least five percent of the total floor area.
Locations with rack storage that contains combustible materials, as defined by the NYC Fire Code.
Colatrella reminded us that regardless of the type of occupancy, all post-fire smoke purge systems must meet specific requirements. These include:
Exhaust the air outside the building—in a safe area—according to the requirements of the NYC Mechanical Code.

Being serviced regularly to ensure proper operation.
Colatrella also stated that the best way to ensure compliance with NYC codes is by enlisting the services of a qualified engineer.
Emergency Generators
There are two types of emergency generators: Emergency Power Systems and Standby Power Systems. The NYC Building Code has specific requirements and mandates for each type of generator. Here is a brief description of each:
Emergency Power Systems provide backup power for building systems which could create a safety hazard for humans if they cease to operate (e.g., hospitals). Due to their critical role, Emergency Power Systems are always required by law.
Standby Power Systems may be either optional or required by law, depending on local codes. These generators provide backup power for building systems that may cause discomfort or business disruption if they cease to operate, but where there is no hazard to human life in case of an interruption.
Colatrella explained that the difference between an Emergency Power System and a Standby Power System is the amount of time it takes the generator to transfer the loads. For example, an Emergency Power System must transfer power within 10 seconds, whereas a Standby Power System must transfer within 60 seconds. Owners of high-rise or major buildings in New York City will be mandated to install Standby Power Systems and meet the requirements to connect to these generators by the FDNY and DOB. These minimum requirements will include:
Fire Alarm Approval Process
Jeremy Fallica took over the discussion by walking the audience through the fire alarm approval process. "Our goal at Milrose is to make the approval process as quick and seamless as possible," he stated. "Time is of the essence to keep everything on schedule." Here are the steps which Milrose takes to ensure that every fire alarm application is processed efficiently:
FDNY Drawing and Code Compliance—Milrose reviews each application as if it was FDNY. This helps to ensure that everything is in order and reduces any additional review time by FDNY.



Fire alarm filing—Milrose submits the application to the FDNY portal, where there may be a wait time of anywhere from two-to-four weeks for a response.



Project Authorization Letter (PAL)

—This new process acts as a work permit that's similar to the DOB. Unlike the filing process, the turnaround time is comparatively quick (about one day) to request an inspection. And it should be noted that

this letter is now required for inspection.





FDNY inspection scheduling—Milrose submits all required documentation to schedule an inspection with FDNY as close to the date as possible of when the client needs it.



Fire alarm pre-testing—Once the inspection date is set, Milrose will go to the site for a functionality test in order to minimize any issues with FDNY.



Fire alarm inspection management and attendance—Milrose ensures that everyone who needs to be present will be on hand for inspection, as well as all the documentation.



Letter of approval—Ultimately, the goal is to receive a letter of approval.
Recent FDNY changes
Last May, changes to the professional certification and self-certification of fire alarms and inspections were introduced and some are still currently being rolled out. Here are the most recent FDNY changes that you should be aware of:
Professional Certification of Fire Alarm System Installations (not part of the building core FA system)
New Certificate of Fitness – S-98/99
Professional Certification of proposed FA system design in lieu of plan examination.
Professional Certification of proposed FA system installation in lieu of plan inspection



*Following our webinar on 9/27/23, the FDNY made Professional Certification of Fire Alarm Systems applications (for tenant fit-outs) available online through the FDNY portal
Professional Certification of Corrected Defects in Fire Alarm System Installations
For Notice of Defects issued at FDNY inspections
Corrected items verified by EC or FA installer.
Determined by the FDNY whether pro-cert can be applied.
Approval of Fire Alarm System Design and Installation(s) (not part of the building core FA system)
Combining the two above changes, FA applications can be designed and installed under pro cert as long as they are not part of the core FA system.
Upcoming proposed FDNY changes
Fallica explained that the FDNY will be implementing changes in 2024. Here is a list of the upcoming proposed changes to be aware of:
Rules are anticipated to be rolled out during fiscal year 2024
Fire Safety Requirements and Procedures at Production Locations
Rule will implement Local Law 33 and 34 of 2021, which regulates fire safety at certain production locations used for filming and rigging
The proposed rule will establish fire safety standards, procedures, and requirements at production locations, including the requirements for a production location fire safety manager.
Creating of a Non-Curable Violation Code Category for Code Enforcement Purposes
The proposed rule will amend 3 RCNY 109-02 to create a non-curable violation code category. The proposed rule will also implement other changes which are required to reflect the new Fire Code and Fire Department rule provisions and/or enforcement procedures.
In-Building Auxiliary Radio Communication System (ARCS)
The proposed rule will modify the technical criteria document to align with current FDNY radio systems and clarify and simplify the documentation required to be filed.
* Fire and Emergency Preparedness (FEP) Plans
The rule will implement the emergency planning and preparedness provisions of Chapter 4 of the 2022 New York City Fire Code pertaining to fire safety and emergency action (FSEAP Level 1) plans and fire and emergency preparedness (FEP Level 2) plans pursuant to FC 401.4 and 401.5.
Milrose's Top Five Tips for Success
Milrose offers these five top tips for being in FDNY compliance:
Plan ahead. Engage Milrose early on in your project.





Avoid short cuts because they will cost you in the long run.





Less is more when it comes to vendors.





Hire contractors who are well versed in fire alarm installation.





Bring in a team that has extensive knowledge of the fire codes, requirements, steps, and procedures as well as longstanding working relationships with the public municipal agencies.
We invite you to listen to the webinar in its entirety here. Connect with us today to learn more about our comprehensive suite of fire protection services.