Do you own a building or parking garage in New York City?
Join Milrose Consultants and our Strategic Partner, Howard L. Zimmerman Architects & Engineers, D.P.C. for a live webinar on Wednesday, March 22nd at 2pm EST to find out everything you need to know about the latest updates to the Façade Inspection & Safety Program (FISP) and Local Law 126 (Parking Structure Inspections).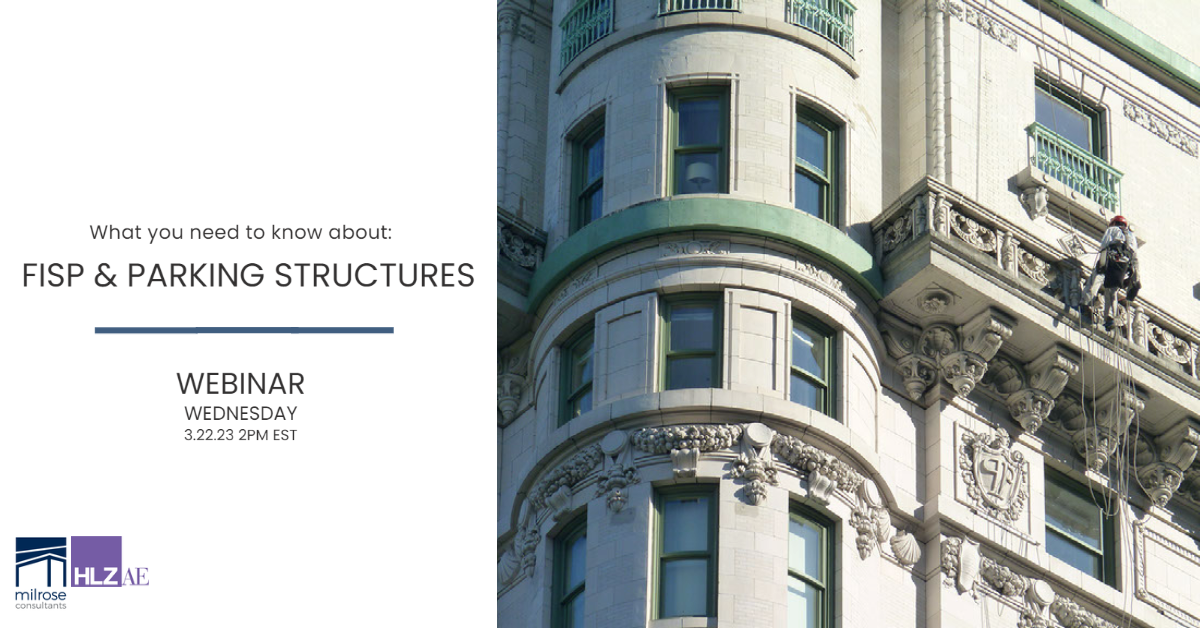 During the webinar, our panel of experts Carolyn Caste, RA, Director of Façade Compliance at HLZAE, and Bryan Chester, PE, Associate Director of Structural Engineering at HLZAE, will discuss:
The latest updates and changes to the FISP program
Background on the new Local Law 126 Parking Structure Inspections
Upcoming deadlines and increased fines to be aware of
Question & Answer session with attendees
Qualified Exterior Wall Inspector (QEWI), Carolyn Caste will be discussing everything you need to know about FISP, including the latest requirements aimed at increasing safety and changes in fines and penalties. She will also be discussing the upcoming Cycle 10 deadlines and what you can do now to ensure your building is compliant.
With Local Law 126 officially in place, owners of parking structures are now required to have their structures inspected every six years, and to file a report with inspection results to the NYC DOB. Learn the details of this new law from Qualified Parking Structure Inspector (QPSI), Bryan Chester, who will also be discussing the inspection windows for parking structures, what to expect, as well as how this law aims to improve regular and routine maintenance of these facilities.
Register now to join us live on Wednesday, March 22nd at 2pm EST for "What You Need to Know About FISP & Parking Structures."