Washington, DC boasts an exploding commercial and residential building scene. Builders, designers and developers navigating the capital and its surrounding suburbs found construction totals at almost $18 billion in 2018, making Washington the fourth-most-sought-after metropolitan real estate market in the country, just behind Houston, Dallas and New York City.1 And much like these urban hotspots, Washington maintains extensive building codes, which the Department of Consumer and Regulatory Affairs (DCRA) administers.
Builders, designers and developers considering projects in Washington would be wise to review these regulations and the various administrative mechanisms through which they can obtain the applicable permits and signoffs.
Understanding the DCRA permitting process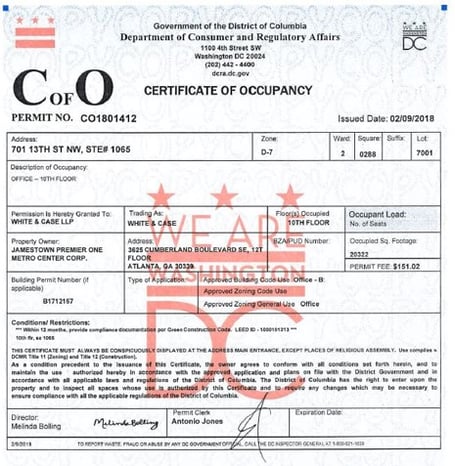 Washington D.C. Certificate of Occupancy
The traditional DCRA permitting process unfolds over six phases, beginning with the initial application submission, which should include PDF drawings of the proposed structure, square footage projections, the estimated cost of construction and other essential pieces of information. The DCRA reviews the submitted documentation and renders its approval or rejection. If the DCRA issues the permit, construction starts. Following completion, agency officials perform a thorough inspection and issue a
Certificate of Occupancy
.
The first three phases of this process — application submission, review and approval — happen over a span of 6 to 12 weeks. Of course, designers, builders or developers whose submissions are rejected may devote more time to clearing up their application issues with DCRA assistance.
While Washington's permitting process resembles those found in other cities, it does feature some unique characteristics. For instance, all proposed structures measuring more than 10,000 square feet are assessed using the DCRA's Energy Conservation Code and Green Construction code, which are more rigorous than comparable regulations in cities like NYC. Additionally, the DCRA shares all applications with local municipal authorities — some of these agencies include DC Water, the District Department of Transportation and the Historic Preservation Review Board — that conduct their own independent reviews and render approval or rejection.
Walking through DCRA permitting alternatives
Builders, designers and developers pursuing projects over 1,000 square feet must navigate the traditional DCRA permitting process. However, those making exterior or interior adjustments to structures 1,000 square feet or smaller, or razing existing buildings to make way for new spaces, can obtain Walk Thru and Raze Permits.
Entities applying for Walk Thru Permits meet with onsite plan reviewers, who then conduct their assessments and give their decisions on the spot. This makes it possible to obtain same-day permits and begin construction mere hours after initial DCRA contact. Raze Permits are far more intensive, as a dozen or so different agencies review the proposed demolition. As a result, builders must typically wait 3 to 6 months for this particular authorization.
In addition to these specialized permitting options, the DCRA provides three additional programs that serve commercial builders, designers and developers across the real estate spectrum, from those intent on executing minor structural upgrades to those working on renovations or new builds measuring 10,000 square feet or more. These alternative filing offerings include:
The Postcard Permit: The DCRA issues these permits for minor structural or property alterations, from installing or replacing 10 or fewer commercial sprinklers to demolishing an interior, non-load-bearing space as large as 5,000 square feet. The agency issues these permits same day, making them ideal for accelerated jobs.
The Velocity Program: The DCRA debuted this program back in 2018 in an effort to accelerate large-scale commercial development in Washington. Velocity is available to builders, designers and developers working on projects measuring 10,000 square feet or more. Participation requires 100% complete concepts with and a minimum fee of $50,000 (based on project size). Offerings center on in-person meetings with project stakeholders, including registered design professionals, and DCRA officials. During these design consultations, the agency reviews the proposed building plans and decides whether to offer permits. Subsequent meetings are subject to additional fees.
In the end, the Velocity Program can help builders, designers and developers save 3 to 4 weeks, sometimes more, per project.


Project X: This offering is essentially an expansion of The Velocity Program tailored to projects measuring 10,000 square feet or less. This initiative centers on DCRA consultations, with per-meeting fees ranging from $2,500 for homeowners working with properties under 5,000 square feet to $10,000 for commercial organizations renovating less than 10,000 square feet. Participation in Project X is contingent on a prescreening which will identify any review requirements outside of DCRA. Sister agencies such as DC Water, and Historic Preservation Review Board do not participate in Project X and maintain their standard review times, so identifying the agencies relevant to your project and securing approvals from them before participating in Project X is a requirement.
Navigating the Washington permitting environment with Milrose
Builders, designers, and developers looking to pursue projects in Washington have no choice but to contend with these permitting programs. However, they don't have to go down this road alone. Here at Milrose Consultants, we staff experienced professionals like David Leath, the regional business manager at our Washington office, as well as code and zoning analysts and project managers who can help project stakeholders map viable filing strategies, ensure design continuity and even coordinate DCRA meetings.
Connect with us today to learn more about our services in the Washington area and elsewhere.
---
1. Dodge Data and Analytics and Forbes, "Building is Booming in These 30 Cities," 2019.