Every March, we celebrate National Women in Construction Week, observed this year from March 7-13.Milrose has long strived to uplift women in construction by spotlighting the impressive careers of the women we work with, including Michelle Ortiz, Project Manager Level II, and Jaclyn DiRenzo, Senior Regional Sales Manager.
To continue that recognition of the efforts and achievements of women in construction, we sat down with Diane Luebs, a Code and Zoning Analyst at Milrose, to learn a little more about her job and her professional journey in urban planning and zoning consulting.
Before coming to Milrose
Diane attended Cornell University, where she took courses that sparked her interest in Urban Planning and eventually led to her decision to pursue her master's in this area.
During her graduate studies at Hunter College, she interned with the Department of City Planning, where she was had her first experience working for the government.
"Everyone there really cares about their jobs," Diane says, "and really cares about making the city better, and whatever projects they were working on, making sure that that project succeeds."
She enjoyed her time at the Department of City Planning, and her experience working with the Planners in the Manhattan Borough Office.
"They care about the neighborhoods that they work in, and they work to improve different components of those neighborhoods wherever they can."
She then went on to receive her Master's Degree in City/Urban, Community, and Regional Planning.
Getting started in construction
Diane interned with Milrose during her time at Hunter College, becoming full-time after earning her master's in 2016.
In her current role as a Code and Zoning Analyst, she writes feasibility studies, answers building code and zoning questions, and consults on building code and zoning for large-scale projects. She is involved throughout the duration of the project — from schematics to the final phases.
But every project is different.
"There are some projects where my main role is to review the applicable zoning regulations, some projects where I review floorplans for building code compliance, and some projects that have a mix of both," Diane says.
Having the flexibility to move between different projects is one of the qualities that has contributed to her success.
Putting theory into action
Diane found it beneficial that early on in her career, she had the opportunity to attend classes on zoning while at the same time working at Milrose. This gave her extra insight into how different concepts were applied to live situations.
One day I'd be learning the theory behind a topic, and the day afterwards I'd be at the office applying these concepts in real life.
"Since I was [in school] when I started at Milrose," she says, "one day I'd be learning the theory behind [a topic]. And the day afterwards I'd be at the office listening to my colleagues working on their projects and applying these concepts in real life."
But Diane is quick to note that she still got help from her colleagues. She says she learned a lot by working under Milrose's seasoned code and zoning analysts, who would take her reports and mark them up so she could learn from mistakes before ever working directly with clients.
This lessened the pressure and enabled her to grow in her early days before she started tackling projects on her own.
Succeeding as a woman in construction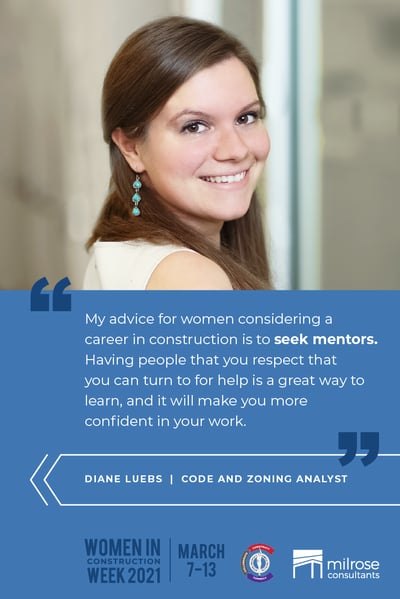 Diane says that in her early days in the construction industry, it could be intimidating walking into project meetings with clients where there were visibly more men than women, especially being younger than most of the people in the room. This encouraged her to work harder and made her focus on holding herself confidently to ensure that her knowledge on these topics was able to shine through.
Diane's direct supervisor, Kathleen D'Erizans, Director of Code and Zoning, also helped her in this respect. Diane says it has been inspiring to work under Kathleen's leadership and see her lead a male-dominated department.
Diane got the chance to step into Kathleen's leadership role when she covered for Kathleen while she was out on maternity leave in early 2020. In that capacity, Diane took on overseeing the Code and Zoning Department and delegated work among the analysts based on their individual skills and prior project experience.
In terms of career advice, Diane says the best thing you can do is seek mentors.
"My advice for women considering a career in construction is to seek mentors. Having people that you respect that you can turn to for help is a great way to learn, and it will make you more confident in your work."
Diane credits her success at Milrose with the people in her department who are always open to helping and are supportive in answering any questions she has. Being able to listen to the seasoned coworkers she sat near as they answered client questions helped her to gain a lot of knowledge and insight.
A lasting impact
One of the things that excites her about her job is that she can still see many of the projects she's helped work on throughout the city.
"It's cool to be able to walk around the city and just see where you've made an impact," she says.
It's cool to be able to walk around the city and just see where you've made an impact.
"Especially because we do so many different types of projects, there are many areas of NYC where you can walk around and see all the buildings that you've advised on, whether it be from a building code standpoint or from a zoning standpoint."
Are you interested in a career in construction? Milrose is growing and has many exciting new career opportunities! To learn about our current job openings, visit www.milrose.com/careers and email your resume to careers@milrose.com.