Climate change mitigation is a priority for many policymakers and businesses as renewables, clean technology and emissions reductions gain greater adoption.
However, without an overarching standard for green construction, developers may use widely different practices, systems and tools — or not use them at all. That's where energy code comes in, which provides standards for building energy consumption, efficiency and environmental performance.
As the tri-state DMV area moves increasingly toward net-zero energy and emissions, among other climate goals, let's look at the adoption of energy codes in Maryland, Virginia and DC and how each stacks up in terms of progressive energy code.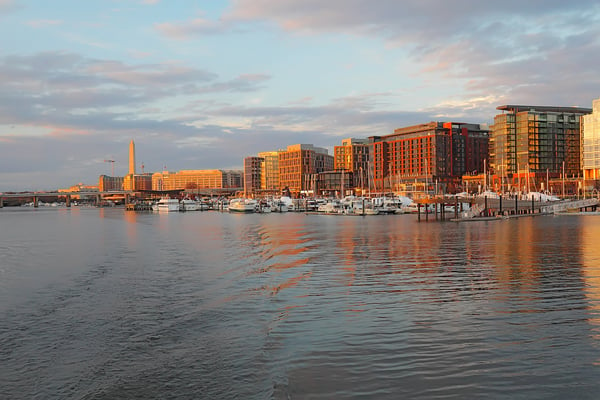 Above: DC's new energy efficient waterfront neighborhood "The Wharf"
Current state of affairs
Code guidelines are issued and periodically updated for a number of practices, whether for construction or waste disposal. Local and state governments then adopt these codes as benchmarks. Municipalities and states may then also choose to adopt a "stretch code," which is optional and exceeds base code in order to achieve ambitious goals like net-zero emissions.
There are two prevailing energy codes published by the International Code Council (ICC):
International Energy Conservation Code (IECC)
International Green Construction Code (IgCC)
American Society of Heating, Refrigerating and Air-Conditioning Engineers (ASHRAE) Standard 90.1 is also used as a basis for code.
The latest version of these codes include 2018 IECC, 2018 IgCC and ASHRAE 90.1 2016. In terms of where the DMV is in adopting the latest code:
DC:
Has adopted 2015 IECC with amendments, (DCMR Title 12 Amendments).
Has also adopted 2012 IgCC and modeled its 2017 DC Energy Conservation Codes in part of ASHRAE 90.1 2013.
Has a stretch construction code that incentivizes projects pursuing net-zero energy, as well as Building Energy Performance Standards (BEPS).
Maryland:
Has adopted 2018 IECC and 2018 IgCC, both with amendments.
As of mid-2020, did not have a stretch code.
Virginia:
Has adopted 2015 IECC with amendments.
As of mid-2020, did not have a stretch code.
How has the DMV performed?
So, given what we know about DMV code adoption, let's look at how the region has performed.
According to the American Council for an Energy-Efficient Economy (ACEEE), which grades cities and states on a number of metrics:
What regulatory changes are being made?
The DMV region, like much of the rest of the country, has identified a number of climate-action goals, both at the state and local level:
DC plans to cut 50% of greenhouse gas emissions by 2030 and reach carbon neutrality by 2050.
Maryland plans to have 100% clean electricity by 2040.
Arlington County, Virginia, plans to achieve carbon neutrality by 2050.
Along with adoption of up-to-date code, regulatory change and legislation have been used to encourage progress toward sustainable goals.
One example is the Clean Energy DC Act of 2018, which introduced a number of new requirements and policies, including Building Energy Performance Standards. BEPS are minimum thresholds for energy performance that buildings must comply with. In DC, the program was instituted to reduce emissions and consumption 50% each by 2032. The DC plan calls for:
Buildings over 50,000 square feet to comply by 2021.
Buildings over 25,000 square feet to comply by 2023.
Buildings over 10,000 square feet to comply by 2026.

Source: DOEE BEPS Overview Presentation
BEPS are powerful tools for driving energy and emissions performance, and jurisdictions in Maryland and Virginia may look to implement such programs. Montgomery County, Maryland, already requires buildings over 50,000 square feet to complete annual energy benchmarking.
Striving to meet energy compliance? Contact Milrose
Building owners and developers will need to pay greater attention to energy and emissions performance as regulations grow more strict and climate-action goals grow more ambitious.
Milrose has extensive experience with helping clients navigate the DCRA permitting process and meet DC's sustainability standards. We also have experience across the region.
Interested in learning more? Get in touch with our DC Account Manager David Leath to learn how our services can help you save time and money on your next project in the DMV area.