Milrose is a leading permit expediting firm and provider of building code and construction consulting services. Throughout its history, the company has primarily served clients across the Northeast and its home of New York City, but a series of strategic alliances has positioned Milrose to elevate its national profile with a focus on geographic expansion, partnerships, and innovative client service.
Crucial to Milrose's endeavor to expand its national profile are Al Cava and Neal Dennison — both of whom were recently promoted to Vice President of Strategic Accounts.
We spoke with Al and Neal to learn more about their roles and how they plan to spearhead Milrose's national expansion and service innovation.
Milrose plans to go national
Over its 30 years of operations, Milrose has gained the trust and acclaim of real estate clients across its traditional markets. Now, the company is focused on leveraging those strengths to serve a more national and diverse portfolio of clients, helping them to achieve cost-effective, on-time construction and occupancy, as well as ongoing building and code compliance.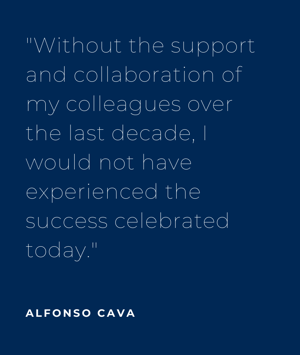 Al and Neal will be central to this initiative in their leadership of the Strategic Accounts Program.
"As we embark on a new phase of growth, I am both excited and humbled by the opportunity this new role presents," says Neal, who started with Milrose in 2013 and has been instrumental in many major projects that have changed NYC's skyline.
Al, who's helped Milrose expand into new markets since 2008, seconded Neal's enthusiasm and credited Milrose's investment in him and others.
"Milrose is an industry leader because of the talented individuals it employs and the great culture it fosters," Al says.
In their new roles, Neal and Al will lead the Strategic Accounts Program, which provides clients with additional alignment, communication, metrics, risk mitigation, and value creation through the most powerful platform of code and permitting services in the country.
"The primary focus of the Strategic Accounts initiative is to build and maintain our client relationships to ensure our service offerings are consistent and predictable from project to project or market to market," Neal says. "This consistency creates value for our clients by reducing uncertainty about permitting durations, costs, or compliance."
How does Strategic Accounts work?
What exactly do clients get with the Strategic Accounts Program? A range of services, including:
Standardized rules and regulations for more efficient procurement across projects.
Comprehensive reporting to ensure maximum transparency into filings and approvals.
Capital planning for both the short and long terms to improve budgeting and forecasting.
End-to-end engagement, from acquisitions and leasing to project administration, post-occupancy needs, and continuing property management.
"Ultimately, what we strive to do is to simplify complex processes, understand business drivers, build relationships, create value, and be a trusted advisor focused on growth," Al says.
A key differentiator to the Strategic Account Program is scalability. Neal and Al will closely manage service delivery that can be scaled up across business verticals, the project lifecycle, and entire client portfolios.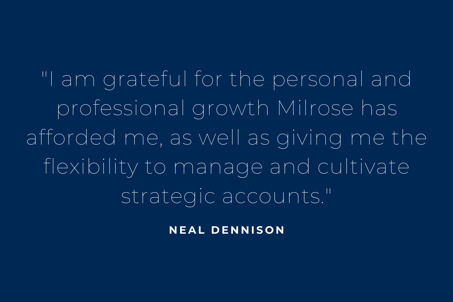 "We hope that our Strategic Account initiative helps to combat this issue by providing our clients with a scalable service delivery model that still accounts for the unique issues that come with differing projects, assets types, or markets," Neal says.
The first step will be to identify strategic accounts that can help facilitate growth into new markets like Illinois, Texas, Florida, and California
From there, the intention is to leverage modernization, localization, standardization, and a suite of solutions and services to power a delivery model that can be deployed nationwide and create value for new clients or new geographic areas of a client's portfolio.
COVID-19 underscores both opportunities and challenges
Real estate has had to adapt on the fly to the realities of COVID-19, like other industries. The impacts of the pandemic will color many of the opportunities and challenges with regard to national expansion, but they are not the sole factors.
For instance, Al notes that real estate has historically been perceived as localized. That is, success depends on if a firm has a physical footprint in a specific township or someone working for the company knows the plumbing inspector from childhood — but this isn't the case in actuality.
Technology has considerably flattened the code consulting curve, while approvals and permits hinge on processes, not relationships. To that end, Milrose is eminently prepared to deploy our offerings nationwide and meet unique project demands.
"Milrose has worked in municipalities throughout the country — we have the technical knowledge of local code and zoning laws coupled with the technology to be able to expedite permits and manage projects anywhere in the United States," Al says.
In terms of the pandemic, there is no doubt that economic uncertainty can be a challenge. However, many opportunities will emerge through the course of responding to the pandemic with innovative and strategic mindsets.
"As corporate tenants rethink their workplace strategies and building owners take steps to safeguard or repurpose their assets, we see an opportunity to provide a helping hand in bringing the environment back to 'normal' while trying to ensure that occupants are doing so in the safest and healthiest manner," Neal says.
Strategic partnerships and other Milrose differentiators will be key
The Strategic Accounts initiative is primed to elevate Milrose's national profile thanks to a core set of differentiators that drive service quality, value creation, and client service.
Strategic partnerships
Milrose recently entered into a strategic partnership with L.A.-based Permit Advisors, a major development that will buttress national ambitions.
Partnering with a trusted and leading company will allow Milrose to integrate its services into a national platform, thus giving the company reach, scale, and predictability to deliver high-quality client services across the country.
"We're excited to have Roy Hasson [President of Permit Advisors] and his team on board," says Neal. "They're first-class service providers that present a perfect synergy with our existing scope of services to expand our geographic footprint to a national level."
Additional strategic partnerships with Southfield Capital and Integrated Group further allow Milrose to leverage capabilities and geographic reach to better serve clients.
Technology adoption
Milrose has helped to bridge the gap between municipal modernization and industry end users — while still ensuring support for stakeholders so they can successfully navigate and make use of digital tools in a meaningful way. The company has worked closely with municipalities to get everyone on the same page regarding the digitization of permitting processes.
"A lot of municipalities have pivoted or are pivoting from paper-based workflows to online portals, and Milrose has been at the forefront of that modernization," Al says. "Not only are we code consultants, but we're also technology consultants."
One example of this commitment is Milrose's investment in WAVE, a state-of-the-art project management system that facilitates collaboration and allows for detailed, accurate project tracking, and project coordination.
Workforce investment
In the end, the national initiative is not only for the benefit of the business and clients, but also Milrose employees, who can advance their careers, build new skills, and otherwise gain opportunities for professional growth.
It's this focus on workforce empowerment that really defines Milrose and is exemplified by efforts like Milrose University, an in-house training program for continuing education.
The culture is something both Al and Neal credit as empowering them in their roles and setting them up for success.
"I am grateful for the personal and professional growth Milrose has afforded me, as well as giving me the flexibility to manage and cultivate strategic accounts," Neal says.
Al echoed thanks for the same institutional support.
"Without the support and collaboration of my colleagues over the last decade, I would not have experienced the success celebrated today," he says.
And, as we'll see shortly, the entire Milrose workforce will be integral to fulfilling our national vision of client service.
Stay tuned for more Milrose updates
As the company launches its national initiative, Neal and Al will be depended on to steer the program — a task they are certainly up for.
"As a part of this new role, I'm excited to be discussing opportunities to work with our clients on projects beyond the New York City metro area," Neal says. "Hopefully, in the not so distant future, this will evolve into an expansion of our service offerings with the goal of providing a comprehensive suite of real estate and construction management services that expand beyond code consultation and permit expediting."
The objectives, according to Al, are in clear sight.
"I'm interested in aligning Milrose internally behind the initiative and growing a path for future promotions and development among existing personnel," he says.
To learn more about Milrose's Strategic Accounts Program and how Milrose can help you streamline and manage your portfolio of buildings throughout the country, reach out to Al Cava (
acava@milrose.com
) and Neal Dennison (
ndennison@milrose.com
).