With the changing landscape of shopping destinations -- from experiential retail to food halls – comes new code and zoning challenges. Our experts weigh in on the biggest retail trends covered at the 2019 International Council of Shopping Centers' (ICSC) RECon conference.
The International Council of Shopping Centers (ICSC) hosted its annual RECon conference in Las Vegas last month. Milrose Consultants' own Al Cava, Regional Director of Sales, Jaclyn DiRenzo, Senior Regional Sales Manager, and William Rose, Senior Vice President, were among the thousands of retail and real estate professionals who attended. And, just like last year, they returned with some keen insights for developers, owners, brokers and sellers looking to adapt and thrive in today's retail environment.
Experiential retail matures
Brick-and-mortar stores devoted the past decade to finding the difference-maker that would help them regain ground in the post-Amazon era. They seem to have found it: experiential retail. By reframing their storefronts to emphasize customer participation and product discovery rather than purchasing, physical sellers have ushered in a new era. Many companies within the retail space have wholeheartedly embraced the concept.
L'Occitane en Provence debuted an enormous new experiential store at 555 Fifth Avenue this past August. The 1,870-square-foot space boasts an in-store rain shower, an olive tree-covered lounge and multiple skincare consultation stations. The shop is immensely successful, drawing in triple the amount of new customers than any other boutique in NYC, per Retail Dive. The store also drives huge amounts of social media traffic, as most shoppers snap selfies seated under its tree. This lends the brand a massive marketing boost through name recognition and leads to more foot traffic.
Health and wellness meets shopping
Mall walkers have long known about the health benefits that come with shopping. However, consumers outside of this legion of shopping center strollers are making this connection. Brick-and-mortar retailers have taken notice and are refreshing their offerings to attract health-conscious bargain hunters. Apparel sellers, beauty suppliers, restaurants and grocers are among the retail businesses most likely to take this route, per data from PSFK.
But what do wellness-infused retail setups look like? Some resemble Saks Fifth Avenue's The Wellery, where customers can book appointments at a full-service salt spa, participate in group fitness classes and even get weight-loss treatments. Others echo The Goods Mart, which offers wholesome convenience store fare and positions itself as the "anti-7-Eleven," the Los Angeles Times reported.
Cold storage becomes key
The concept of cold storage — i.e., keeping large amounts of perishable food — has long been associated with the food industry, as restaurants and fresh or frozen food sellers typically install and maintain industrial-grade refrigeration systems. However, more retailers are being forced to reckon with cold storage due the rise in grocery delivery services and at-home meal preparation kits. Now, sellers are buying up massive refrigerated warehouse space in an attempt to enter this growing ecommerce niche — a move that can lay the foundation for revenue growth and complicate operations. With the specific needs of cold storage spaces, such as size and close proximity to their target delivery population, many pre-existing locations are being repurposed to serve this industry.
Mom and pop shops find footing
While larger retailers are suffering store closures, smaller ones focusing on local and homegrown offerings are gaining ground in the market by cultivating unique merchandising niches. Independent retailers are using carefully conceived item curation, in-store experience creation and social media marketing strategies to woo special clientele with niche purchasing needs. American clothing boutiques, of which there are roughly 154,000, per IBIS World, earned $21 billion in 2018 alone.
As more and more consumers visit these shops and others like them, mom and pop retail revenue will likely increase. Similarly, more off-market brands that solely lived online are now finding their physical footprint in brick-and-mortar stores. To keep up with the mom and pop trend, landlords are also becoming much more enticed by these niche stores, potentially overlooking the less reliable credit of smaller shops for the benefit of customer draw.
Social and food halls gain steam
It would seem opportunities for eating, shopping and socializing simultaneously are shrinking due to the decline of the indoor mall. Luckily, there are new structures rising to replace the boxy suburban behemoths in which consumers used to enjoy these activities. Social halls — or large multipurpose spaces that offer collaborative work, dining, educational, public function and retail areas — are becoming increasingly popular across the U.S., as municipal planners look for new ways to bring people together via shared experiences.
Food halls, massive multipurpose eateries containing multiple retail and restaurant options, are serving similar functions and being integrated into a lot of anchor shopping centers. This is why the total population of food halls in the U.S. increased by 700% between 2010 and 2017, per The New York Times, and is expected to rise further in the near future.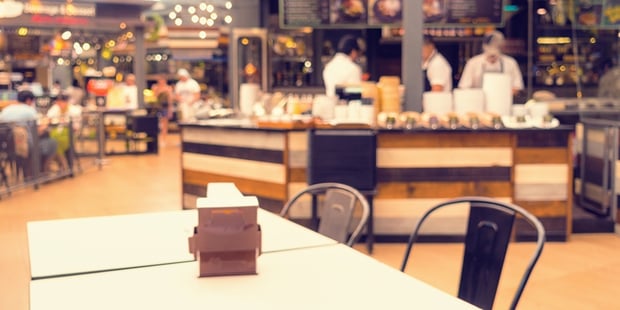 Food halls have increased by 700% between 2010 and 2017
Coworking and retail team up
Retail businesses and organizations in the coworking sector are teaming up and developing spaces meant to support both work and shopping. Macerich, a mall owner, has partnered with Industrious, a coworking company, to add flexible-office spaces into some of the company's shopping centers. Smaller retail stores like Take Care are getting in on this trend too, adding coworking to their store's offerings so visitors can engage in retail therapy, look over their work emails and repeat, per Retail Dive.
The big box goes back-of-house
As traditional retailers shrink down their physical footprints and swap massive spaces for small flexible shops curated to shoppers' ever-changing tastes, the population of cavernous former big box stores increases. Some sellers are converting these expansive properties into distribution centers designed to support ecommerce operations and other lines of business. Amazon ranks among the most prominent big-box reusers, having turned multiple former retail hubs into vast logistics centers. Researchers for CBRE estimates that roughly 24 of these conversions have commenced since 2016 — projects that account for almost 8 million square feet of retail space.
Some of the few remaining big box retailers like Costco are doing something similar, but instead of swapping sales floors for shipping and receiving space, they are beefing up their distribution workflows that already exist within active brick-and-mortar locations. This allows them to take control of their supply chains and catalyze efficiency gains and cost reductions.
The future of retail
Together, these developments and trends are bound to have an immense impact on many retailers who are looking to build sustainable operational models in the ecommerce age. The new and innovative retail concepts our team members discussed at RECon 2019 will bring forth many exciting opportunities to break into new markets and capitalize on the current state of the retail space.
Code and zoning challenges
However, with all new opportunities come new challenges. Owners and landlords looking to repurpose their spaces to meet consumer needs may encounter code and zoning difficulties. Solving these issues without losing time and money is no easy task, especially when a new or amended zoning interpretation is required.
As the rise in mixed-use retail spaces continues to climb, we predict that local municipalities will begin to introduce new zoning language that clarifies parking, square footage limits and permitted uses for these types of mixed-use spaces.
Before embarking on a new retail project, bring Milrose in to assess whether zoning allows for the permitted use of the space or if a variance may be required for your project. We will guide your team through the building code, approval, permit and occupancy processes, helping your team get into the space and start operating as soon as possible. In these shifting yet exciting times, have a trusted advisor by your side.