March 7-13 is Women in Construction Week in 2021, an annual observance for celebrating the accomplishments of women across the construction industry.
Each year we recognize Women in Construction Week by highlighting the careers of the women we work with, including Diane Luebs, Code and Zoning Analyst, Michelle Ortiz, Project Manager Level II and Jaclyn DiRenzo, Senior Regional Sales Manager, in years past.
This year, Milrose Consultants is proud to be joined by our strategic partners Permit Advisors and Integrated Group in uplifting the achievements of women in construction. nd this year, we are excited to bring to you the story of Julia Aust, a Senior Project Manager with Permit Advisors.
She didn't choose construction, the industry chose her!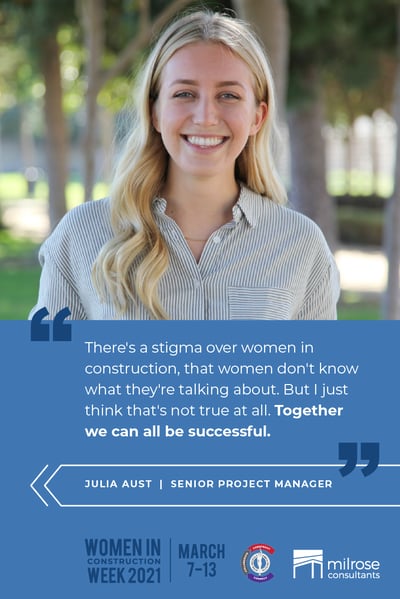 As Julia would tell the story, her introduction to the construction industry was an unexpected twist to her early professional career.
"In reality, I sort of fell into the industry," Julia said. "I was looking for a job and happened to come across a construction office manager position."
It quickly became clear, however, that Julia was fated for the construction industry and she fell into just the right spot.
"I couldn't see myself doing anything else," Julia said. "Construction is not what I was expecting to do with my life, but I'm very glad I found my way into it."
Initially, Julia started out as an office manager for a general contractor. After gaining some experience — largely with residential projects — she made the decision to join Permit Advisors.
Now with the company for five years, Julia is a Senior Project Manager who's closely involved with the inner workings of projects.
As a SoCal native, Julia is always in awe of being able to walk around Los Angeles and see various projects she's contributed to — like the Century City Westfield Mall."Basically, I focus on permitting from start to finish," Julia said. "My day-to-day is making sure that projects get submitted and approved on time, as well as answering any questions along the way."
"It's super rewarding," Julia said. "Being from LA and working on the LA team, I constantly drive by places and see the buildings in real life that I worked on the plans for."
Learning to lead
Though Julia is thriving in her role now, it still took time for her to adjust to the position, which was more leadership-focused than her office manager job.
"Going from mostly residential projects to majority commercial was a whole different ball game," she said. "I had never managed people before, so it was a really big learning curve, like learning how to communicate with different personalities and best position my team for success with their skills and expertise."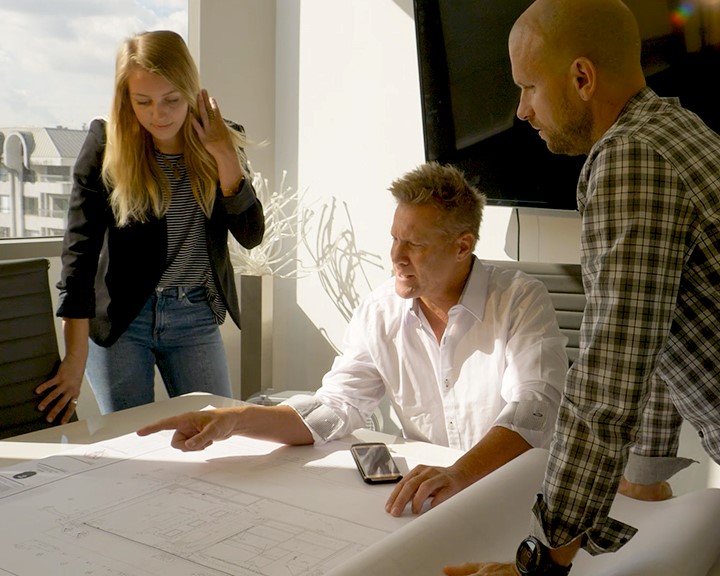 Pictured above: Julia reviews with her project team at Permit Advisors
She credits her supervisors with instilling the confidence in her to lead confidently and capably.
"Roy Hasson [President of Permit Advisors] and Marisa Mungo [Director of Human Resources] had a lot to do with helping me acclimate," Julia said. "When I was struggling a bit initially, Marisa said to me 'Julia, you're not a manager, but you're a leader.'"
The comment set off a light in Julia's head.
Roy has been the most supportive mentor I've ever had; the best boss one could ask for,

He trusted me to try new things and if I fail, I fail. But he always encourages me to try.
"I understood that as a leader, I needed to manage by experience and example."
"It totally changed how I was thinking about my role, that I didn't have to be the boss and set standards, which I felt was really holding me back," Julia said.
"Roy has been the most supportive mentor I've ever had; the best boss one could ask for," she said. "He trusted me to try new things and if I fail, I fail. But he always encourages me to try."The support of her superiors has been key throughout Julia's career at Permit Advisors.
On encouraging other women to join construction
As a woman in a male-dominated industry, Julia has come to appreciate the challenges but never backs down in the face of them.
"There's a stigma about women in construction, the misperception that women don't know what they're talking about," Julia said. "But I just think that's not true at all, together we can all be successful."
As for advice she'd give to women considering a career in construction — go for it! Give it a shot even if a job in the industry was never on your radar in the first place, like it wasn't for Julia.
If you're a woman considering entering the construction industry: Just do it.
"If you're a woman considering entering the construction industry: Just do it," she said. "If you want it and want to learn, get your feet wet and just do it."
Best of all, in addition to earning professional distinction, Julia has taken her on-the-job experiences in construction and permitting and applied that knowledge for real-life good.
Through the Growth International Volunteer Excursions (GIVE) program, Julia donated her experience working in the construction field to volunteering as a construction worker to help build public restrooms for a small village in Laos. Julia added. "I think my construction background led me to that opportunity."
Promoting and celebrating women in construction
We would like to thank Julia and all of the women who work at Permit Advisors, Milrose Consultants, and Integrated Group for their outstanding contributions to the field of construction. Please join us in celebrating Women in Construction Week 2021 throughout the week of March 7-12 by following us on LinkedIn, Facebook, and Instagram.